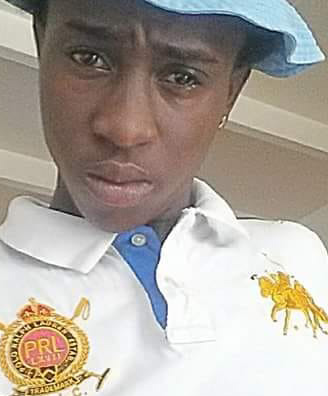 A young Freeman Street resident died in hospital yesterday morning, almost 12 hours after he was stabbed during a fight with a man whom police say he attacked at D'Urban and Chapel streets, Lodge, in Georgetown.
Dead is Roger Allen, of Lot 60 Freeman Street, East La Penitence, Georgetown, who received his fatal injuries on Thursday afternoon.
The police said Allen, a Guyana Water Incorporated (GWI) worker, sustained two suspected stab wounds about his body during a scuffle with fellow Freeman Street resident Matthew Parks. Both men were subsequently rushed to the Georgetown Public Hospital, where Allen underwent emergency surgery. He succumbed early yesterday morning while receiving medical attention. Parks, 20, of 214 Freeman Street, East La Penitence, who was also treated for injuries he sustained, was discharged and taken into police custody.
In a press statement, Guyana Police Force spokesman Jairam Ramlakhan yesterday said investigations had revealed that prior to the fatal encounter on Thursday, Allen went to a Mini Mart, located at D'Urban and Chapel streets, Lodge, where Parks was on duty, in order to make a purchase. The two men had an exchange of words due to a misunderstanding and Allen subsequently left.
Around 5 pm, Ramlakhan said, Parks exited his workplace and he was confronted by Allen, who was reportedly armed with a piece of wood and a knife. "A scuffle ensued and both men received injuries," he added.
Residents yesterday told reporters that they only noticed Parks chasing behind Allen from D'Urban Street into Chapel Street.
They said they later learnt that Allen was stabbed and he rushed into a nearby yard and collapsed.
While it remains unclear what might have led to the altercation, residents said they learnt it was over cigarettes.
'Save meh life'
A resident, who wished not to be named, told this newspaper that when she ventured out of her house, she noticed Parks running behind Allen with a knife in his hands. "…When I come outside, I saw this boy (Parks) running with this knife in he hand and I see Roger run and go in a yard but I didn't know that he done get bore," the woman said.
After they rushed Allen to the hospital, the woman said, the nurses informed her and other residents that there was a 50/50 chance of Allen surviving. "…Because is he main vein in he (Allen) heart," she noted.
The woman recalled that on their way to the hospital, Allen pleaded with her son to drive fast to save his life. "He (Allen) tell me son, he seh 'Paul, drive this car fuh save meh life!' When we reach at the hospital, he seh, 'Nurse y'all save meh life!'" she cried.
The woman said based on what she learnt, Parks is claiming that the incident unfolded after Allen went to the Mini Mart to purchase a cigarette but "tumbled up" an entire pack. "But apart from duh they had some problem before," she added.
Another resident recalled Allen approaching her for help as she was riding along D'Urban Street. "I see Roger and he seh 'Tanisha, no put down the bicycle and come help meh.' And I ask he wam to he and he seh he geh juk straight through he hand," she said.
The woman added that after Allen ran into the nearby yard, he subsequently fainted and she began to seek help in transporting him to the hospital.
Around 1 am yesterday, she said, she received a call from someone who informed her that Allen was not breathing on his own and he was on life support at the hospital. "When we arrive (at the hospital), doctor seh bad news," she recalled.
She also noted that the row between the two men was over cigarettes. "He (Parks) claiming how Roger come at he shop to buy cigarette and snatch the pack from him and touch up all the cigarette," she said.
Meanwhile, Donna Whyte, the dead man's mother, told this newspaper that her family was still trying to come to grips with what occurred.
Whyte said she did not share the same home with Allen but she was unaware of him having any problem with anyone that might have led to his death.
She said she last saw her son alive on Thursday afternoon, while he was liming with his friends on D'Urban Street, as is customary.
After someone visited her home and informed her that Allen was stabbed, she said she immediately went to the hospital, where she found Allen in an unconscious state. "I signed the form for him to take a surgery but the doctor said that he lost a lot of blood and they will try to do the surgery but he (Allen) may die," she explained.
Whyte said she was at the hospital up until 2 am yesterday morning. She said some three hours after returning home, she learnt that Allen succumbed to his injuries.
The woman called for justice for her son. "It a life lost," she said.
Around the Web