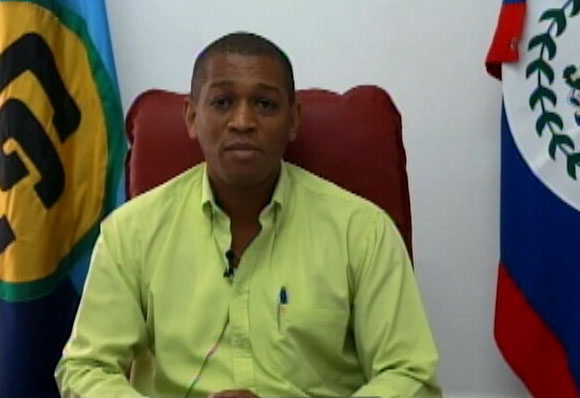 With the country's limited capacity to audit pre-contract costs for oil recovery, Head of the Department of Energy, Dr Mark Bynoe, says that an international firm will be hired to aid both the Guyana Revenue Authority (GRA) and the state audit office to discharge their obligations.
Dr. Bynoe believes that the process will take time but he is preparing interim measures, such as recruiting an international company to assist with the fostering and transfer of oil and gas content knowledge.
"While both the Guyana Revenue Authority and the Office of the Auditor General have some capacity to conduct the first cost recovery audit of ExxonMobil, they tend to have limited subject expertise. In this vein, therefore, the Department is working to procure the services of a reputable international firm that can assist these entities in conducting said audits," Dr. Bynoe told this newspaper, when contacted.
Following calls for ExxonMobil's US$460 million pre-contract charges to be audited, the GRA announced that it will not only audit the costs up to the end of 2015 but the 2016 and 2017 cost recovery charges that are believed to be over US$500 million.
The company projects that the Liza-1 oil well development alone will cost approximately US$4.4 billion, which will constitute cost oil as per the production sharing agreement signed in 1999 and renegotiated in 2016.
There has been much debate about the ability of local agencies to undertake such audits. This has seen civil society activist and chartered accountant Christopher Ram issuing sharp criticisms of their lack of capacity and in the case of the GRA, its lack of legal authority.
At the same time, accounting experts, such as US-based chartered accountant and professor Floyd Haynes have underscored the technical nature of such audits and the need for a "multi-disciplinary" auditing team be used.
"A cost recovery audit… is designed to determine the validity, accuracy and legitimacy of claimed costs, and should be undertaken by a multi-disciplinary team with varying expertise to include legal, finance and accounting, petroleum engineers and as well as others," Haynes states.
"Pre-contract costs in the oil exploration business typically fall into two general categories – Finding costs—Cost of Geological and Geophysical (G&G) work; Cost of Licences, Signature bonuses, cost of drilling and exploration—and Development costs—Cost of acquiring, constructing, installing production facilities and drilling development wells. Auditing of these costs is indeed a non-trivial matter.  Establishing the veracity of some elements of these costs may be straightforward; however, establishing the same for other cost elements can be very complex and could require Subject Matter Experts (SME) in areas outside those that [are] required in a traditional financial audit," he adds.
Guyana's Auditor General Deodat Sharma agrees fully that when it comes to the specialised knowledge of the petroleum industry, both he and his staff are at a disadvantage.
"To say that we were are prepared, I cannot right now because my office is now preparing to understand even some of the terminology used," Sharma told Sunday Stabroek.
"We are not qualified to say what is what really when those line items are put to us and I might have to get some engineers or other professionals to translate and explain to me what are the expenditures stated and what it means…things like that," Sharma explained.
However, he added that while the law gives him the authority to procure the services of private accounting agencies, he wants to have working content knowledge of the process before he moves in that direction.  "Any giving out or coming in of state revenue, the audit office should be involved and again I say [although] though  the Audit Office gives me that authority to get outside help, that is not the focus right now. I think we should get little understanding and we are working to get that," he said.
Sharma has already indicated his office's need for support to the Department of Energy as Dr. Bynoe has been meeting with other public bodies that would be tied to the emerging sector, to ascertain needs and plan for full and efficient functionality.
'Roadmap'
"We are formulating a roadmap for the Depart-ment to better understand where the gaps are and what the Department needs to do in the immediate, in the near-, and in the medium terms. Additionally, we are seeking to provide technical and other types of assistance to other agencies for greater efficiency and complementarity," Dr. Bynoe told this newspaper.
And as he buckles down in preparation for his agency's operations, much of his days are being spent in meetings with agency heads and experts to put together his "roadmap" even as he is spearheading the recruitment of staff.
Sunday Stabroek was told that since he took up the position last month, his work days do not end until after 11pm. "We are currently recruiting administrative staff; and you would have seen recently the appointment of Mr. Matthew Wilks, as an Adviser within the Department. The process in addressing immediate needs and building the capacity within the Department is ongoing," the DoE head said.
President David Granger last week made clear that all matters concerning oil and gas have been referred to the Department of Energy. He said he has asked that Department, which falls under the Ministry of the Presidency, to engage the media during next month so that all questions could be answered.  "I don't want to deal with oil and gas in a piecemeal manner and the [head of the] Department of Energy, Dr. Mark Bynoe, is going to respond to those queries," he stressed.
It was Granger who hand-picked Bynoe to head the Department and has shrugged off concern of his lack of experience and said  that while his choice head may not have experience in the oil and gas sector, he has the intelligence and ability to find the expert help needed.
The President is confident that the new appointee could spearhead and complete a search for experts in oil and gas to support him.
"He knows he doesn't know everything, but he knows where to find people who know enough to make that sector functional and we feel he is a fit and proper person to do that. No other person has been appointed. He has the responsibility to now embark on what I would call a four-phased programme for the establishment of the Department," Granger had said when asked about Dr. Bynoe's suitability to hold the post.
The APNU+AFC government has been heavily criticised for not hiring experts to oversee the negotiations with ExxonMobil's local subsidiary, Esso Exploration and Production Guyana Limited, in 2016 for the controversial Production Sharing Agreement, which many analysts have said has left Guyana with far less than it should be receiving when oil production begins in 2020.
Revised PSA model
Dr. Bynoe said that key among plans being set for the Department, is a revised model Production Sharing Agreement but before it is crafted, the Department will seek expert technical assistance to ensure that Guyana gets maximum benefits.
"Within the Department, we are working to get things in place and that is a process. For example, there has to be engagements with multilateral and bilateral partners to see what can be done as we build capacity without duplication of effort, as well as seeking to have a revised model PSA in place. Once again, in this latter case, technical assistance is being sought," he noted.
"This is not about me or you or anyone else. This is about Guyana and ensuring what is right for this country and its people," Dr. Bynoe added.
Around the Web