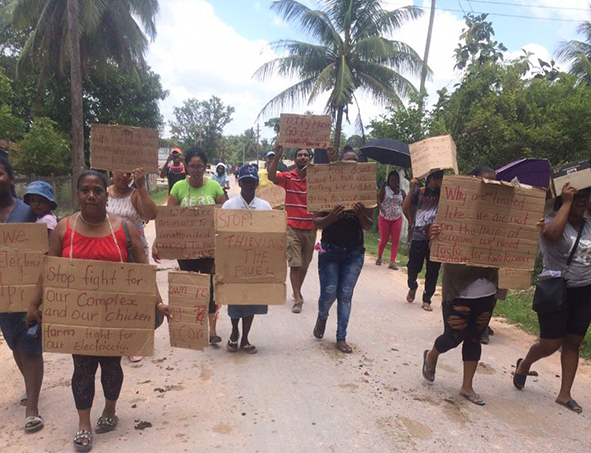 The persistent power shortages being experienced by Kwakwani has been blamed on a limited supply of fuel with Kwakwani Utility Inc. (KUI) being unable to procure normal amounts from Russian aluminum company, Rusal.
Rusal owns 90% of the Aroaima, Berbice-based Bauxite Company Guyana Inc. The company's operations is located on the Berbice River between Kwakwani and Linden. KUI procures fuel from the company to power its generators. However, Kwakwani has been experiencing persistent and lengthy power outages for months now and on Friday, dozens of residents protested and vowed to continue until their plight is addressed.
One resident, who wanted to remain anonymous, told Stabroek News yesterday that the issue stems from KUI being unable to procure the same amount of fuel from Rusal to run the generator that supplies electricity to the community.
"The KUI, they have a problem with Rusal where Rusal was being placed on the blacklist from America and KUI is not getting fuel as it used to get. They would get normally twice a week but now getting it once and so the supply that they are getting, it cannot facilitate the entire Kwakwani so they have to put them on load-shedding so that every day persons can still get electricity at their homes," the resident explained.
Earlier this year, in April, the U.S. government added Russian magnate and owner of Rusal, Oleg Deripaska, to its sanctions blacklist in retaliation for Russian interference in the US general elections of 2016. The Guyana Government subsequently expressed concern that it might have implications for the company's operations here.
Residents protested the power shortages on Friday. Charles Tom, a resident, had said that the community has been enduring more than eight hours of power outages per day for the past three months. This also affects their water supply.
"We getting blackout about eight hours every day and we getting water problems because when you get blackout, you not getting water and when the current come on, people can't pump because the water not there," Tom explained. He had said the situation has been ongoing for over three months and seems to be worsening.
Yesterday, residents reiterated their call for representatives from the Board of Directors of KUI to visit the community and properly communicate with them what is happening and how the situation can be rectified.
"They shouldn't be putting this on management and I think this thing is a politics thing now seeing that local government elections coming up. They should come and speak to the residents or tell management what they should say to the people because at this time, everyone playing with politics," one resident said. It was noted that there is only one generator currently operating at the power station, which makes it even more difficult for KUI to supply consistent power to the community.
Other residents echoed similar sentiments and emphasised that they are willing to offer their assistance in any way possible so that the situation can be rectified soonest. However, it was stated that they are not being given many options since they are being kept in the dark.
"We are going to continue protesting because we want to know what is going on. This thing has been going on for more than three months and people are fed up. Everyone is frustrated because we can't deal with this blackout any longer. People food spoiling, children can't study, all kinds of things happening since and we are fed up," the resident noted, while emphasising that they plan on continuing their protests today and throughout the week until the relevant authorities meet with them.
Region 10 Regional Executive Officer (REO), Orrin Gordon, when contacted yesterday, explained that KUI is not operating under the umbrella of the Regional Democratic Council (RDC), and as such, the RDC is not the agency that is currently dealing with the issue.
However, he did note that from time to time, if requests are made through the Neighbourhood Democratic Council, they would assist the community. He was unsure whether any requests were made recently.  
Around the Web