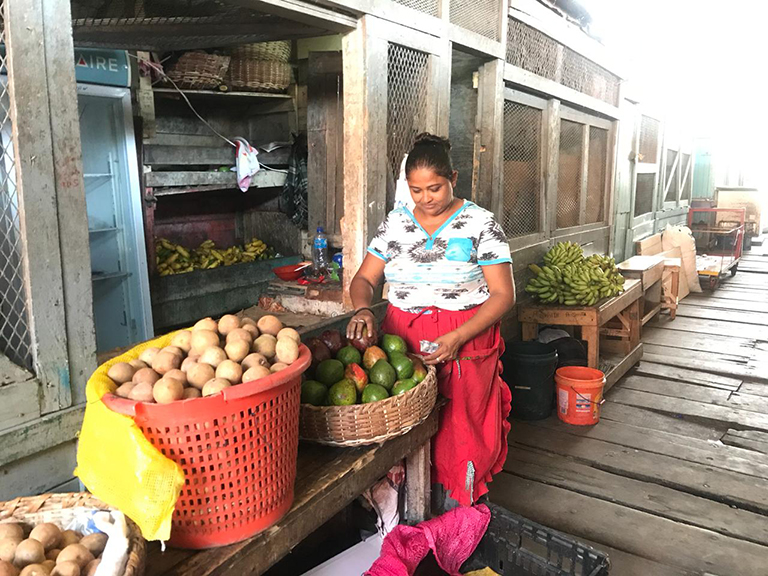 A day after the Mayor and City Council (M&CC) closed off three entrances of the decrepit Stabroek Market Wharf, vendors on Friday continued to ply their trade, despite the existing risks.
At a meeting held with Town Clerk Royston King, officials of the city administration and vendors; vendors pleaded to be allowed to remain on the wharf until the identified Russell Square area is completed.
Vendors told Stabroek News on Friday that they had been granted permission to operate on the wharf until mid-next week. By then, it is expected that the city administration will complete preparatory works at Russell Square, which is located west of the Stabroek Market.
However, on Friday, a public notice was issued by King informing the general public and vendors that the wharf is unfit to accommodate any commercial activity or human occupation.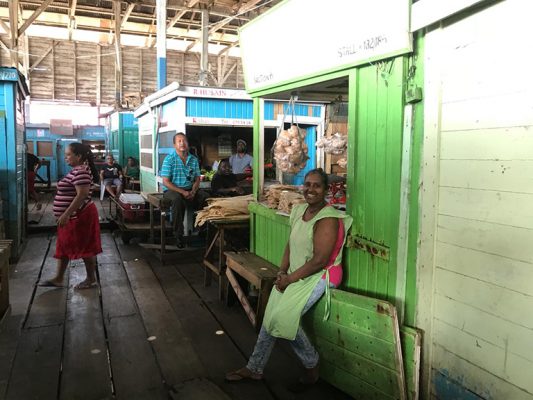 "This is to notify the general public that the city engineer has certified that the portion of the Stabroek Market known as the Stabroek Market Wharf is unfit for human occupation and/ or business. This is so because it is in imminent danger of collapse," the September 14 notice stated.
The notice further stated that, "The Council disclaims any liability for any loss, damage, injury, death to any one defying this warning. This warning remains in effect until further notice…"
Spokeswoman at the M&CC, Debra Lewis, explained that they had made provisions to allow vendors with perishable goods to vend at Russell Square from Friday afternoon. She noted that the "vendors selling fruits and ground provisions will be allowed to use pallets and sell" to prevent any losses, while others will have to wait on the go ahead from the administration.
Lewis added further that at the meeting, the vendors agreed to construct their own stalls with the measurements of 6 ft. in width, 8 ft. in length and 13 ft. in height. The vendors, she explained, will be working along with the engineer's department to construct the stalls.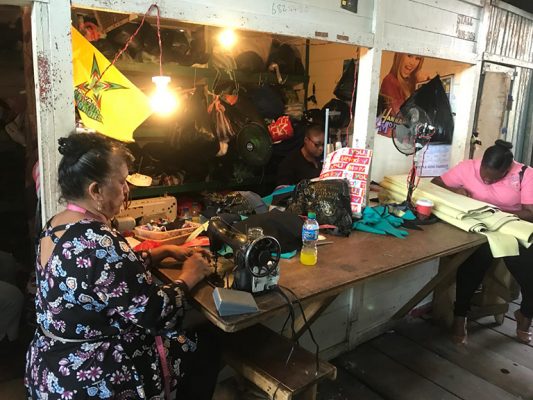 In addition, Lewis said an emergency statutory meeting will be convened for council to iron out the details on the relocation of the vendors.
On August 30th, stall operators were served with a notice advising them to cease operations at the wharf within two weeks in order to facilitate repairs to the structure.
At the wharf on Friday, vending continued as per norm, however,  customer traffic was slow. One vendor said that the slow traffic was as a result of the entrances being closed. One entrance remained open at the market on Friday.
Patrick Singh, a vendor who retails preserved seafood, explained that he was grateful that the city administration permitted them to continue selling. He noted that while they are taking a risk, he was happy they have a chance to "push off" their goods.
Further, he said that they are happy to learn that they will be able to move within a week and construct their own stalls.
"We constructing our own stall is faster, we wouldn't have to wait on City Council. Waiting on them would have been longer, so this is a better deal. They should have told us to construct our own stalls," Singh said.
He, however, like other vendors, noted that they would not be able to store any goods on-site and will have to cut back on the amount of goods they would usually purchase.
"I am satisfied with this decision, they wanted to move us without preparing the place and building us stalls; that wasn't fair. We can build our stalls now and we might be able to do that faster than City Council," N. Mohammed, a seamstress who sews on the wharf asserted.
Nonetheless, she remains hopeful that King will hold up his end of the deal and they will be able to move by next week.
"We had to hold out to stay here for another week because everyone get bills to pay and we had to ask them for this. It is dangerous for us to be here but they haven't prepared the place for us as yet. We are taking a risk but it is only because we have nowhere to go," Mohammed defended, when asked if she is aware of the dangers.
Fruit vendor, Chandroutie Alfred, also echoed similar sentiments of her colleagues. She is one of the vendors that will benefit from the priority relocation. Two days before the council erected the barriers at the three entrances, she and a few others had purchased a large amount of goods to retail. "We have to try and sell out these goods. I am going out there this afternoon (Friday) and we will sell. If they had open back the entrance we would have been able to sell off some because once the entrance is open people comes in," she noted.
Alfred also registered concern over the fact that she will have to find new customers, as she fears that she might not be able to take her old customers with her.
The council was met with resistance from vendors on Thursday morning when officials showed up and began to cordon off the area.
However, King, at a press conference held to explain the council's move, reiterated that the actions taken were to ensure the safety and wellbeing of the stallholders.
"Preparation and allied arrangements to relocate them are taking time and substantial resources, which are not now within the coffers of the council. Hence, there has been, financially, a slight setback to our fulfilling the original timeline of one month to relocate those vendors. The council needs another three to four weeks to complete preparation of that area," King acknowledged on Thursday at the press conference.
Around the Web