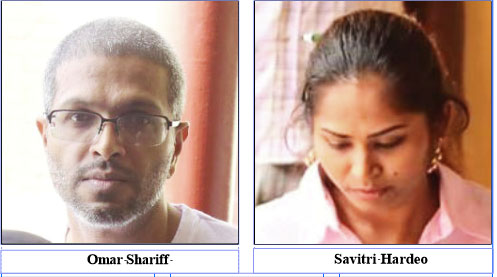 A no-case submission was yesterday made on behalf of former Ministry of the Presidency Permanent Secretary Omar Shariff and his wife, who are accused of failing to comply with a court order.
Shariff and his wife, Savitri Hardeo, both of Dowding Street, Kitty, are currently on trial before Senior Magistrate Fabayo Azore on a charge that on or before October 14th, 2016, at Georgetown, they failed to comply with a production order issued by acting Chief Justice Yonette Cummings-Edwards.
It is alleged that without reasonable cause, they contravened the order, which was served by a marshal of the High Court in order for them to produce certain named documents, within seven days, to Assistant Commissioner of Police Sydney James, who is the head of the Special Organised Crime Unit (SOCU).
During yesterday's hearing, attorney Sanjeev Datadin, who represents the two accused, argued that the court has no jurisdiction to hear the matter since the order was issued by the High Court. He further stated that there was no evidence that there was a breach of an order before the Magistrate's Court, since no documents to support same have been produced.
Datadin further argued that the court has no evidence as to if there's compliance or not on the part of his clients.
Subsequent to his no-case submission, a date was set for SOCU prosecutor Patrice Henry to reply.
The matter is expected to be called again September 28th.
Around the Web