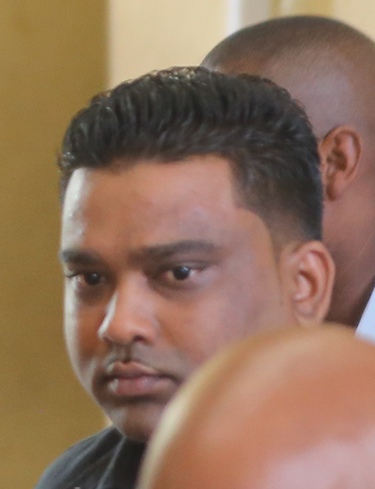 An Assistant Superinten-dent of Police (ASP) and a Corporal were yesterday taken before a city court to answer to separate charges of unlawful detention and assault.
ASP Mahendra Singh and Corporal Christopher Dhanraj were brought into the courtroom of Chief Magistrate Ann McLennan to answer to the charges.
Prior to the charges being read, Prosecutor Tracy Ann Gittens attempted to prevent reporters from taking photos of the men. Gittens approached the media area that was occupied by several reporters and stated in a hostile manner, "These matters for Mahendra Singh and Christopher Dhanraj, I don't want no cameras." After repeating the instruction, Gittens was asked for a reason by members of the media, to which she responded, "Because I said so."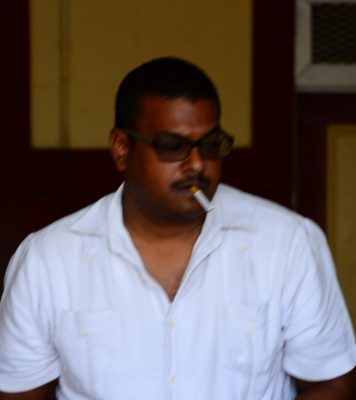 Sometime after, Singh, 32, of 173 Pike Street, Kitty, was charged with unlawfully detaining Perry Barker from proceeding out of the Coin Restaurant and Bar on August 15th, at Diamond, East Bank Demerara.
Dhanraj, 30, of 175 Section 'C,' Diamond, East Bank Demerara, was then read a charge, which stated that on August 15th, at Diamond, he unlawfully assaulted Barker.
Both men, who were represented by attorney Bernard Da Silva, denied the charges.
According to the case presented to the court by police, on the day in question, both defendants were at the Coin Restaurant and Bar when Barker allegedly visited the premises. It was stated that an argument ensued, resulting in an altercation between the men and Dhanraj cuffing Barker several times about his body. The prosecutor added that Singh pushed Barker into a bathroom and prevented him from leaving. However, Barker subsequently managed to open the bathroom door and escaped.
There was no objection made to bail being granted to either of the two men. They were each released on $20,000 bail.
While reporters were leaving the courtroom, a man who appeared to be a relative of one of the accused questioned one of them about where she worked. When he was not met with a favourable answer, he stated, "You gon get what comin' to ya."
While Dhanraj was escorted out through the prisoners' chute, Singh was permitted to remain in the courtroom until his bail was paid.
The defendants are set to make their next court appearance on September 24th.
Around the Web