As a protest for immediate works on the access road to Kuru Kuru, on the Soesdkye-Linden Highway, intensified, residents were yesterday told that repairs are slated to be done under the next national budget.  
Residents along with some of their children yesterday stood along the access road to the community and continued their protest, which started on Monday. They continued to call for immediate works to be done on the road, in wake of an incident last week in which a bus that was transporting students and other residents almost toppled.
The residents reiterated that due to the state of the road, buses that are contracted to take the children to school are refusing to traverse the road. Parents insisted that they did not take their children out of school.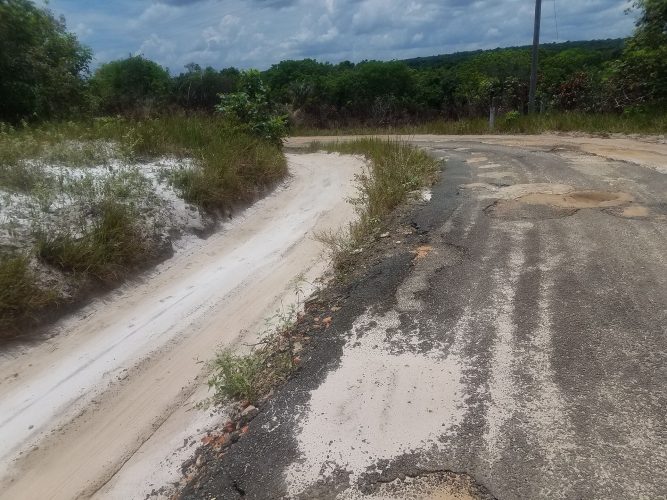 "Last week Wednesday, one of the buses almost topple over, because the buses does be overload sometimes, as everybody wants to get the bus while it's here, 'cause is over two miles you got to walk to get in there,"  a resident explained.
"The first week was the teachers' strike. Now, we gon' strike 'cause of the road. We need somebody to come and sit and talk with us… if we can't do the road they could either patch it or do something, or we have a big plot in front there let them build a school closer," a man, who identified himself as Mr Farrier, stated.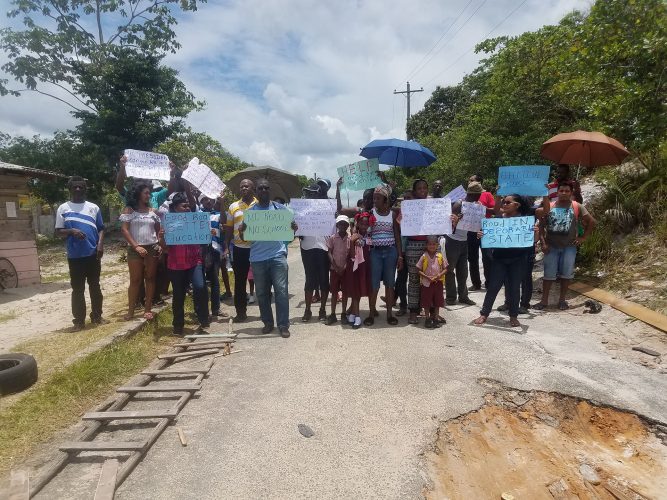 The man went on to say that if someone from either the Ministry of Education or the Ministry of Public Infrastructure makes a visit to the area and holds a meeting with the residents, they can possibly come to a fitting solution that would benefit both the residents and the ministry.
The residents stated that they intend to keep protesting until they are given a solution. "…If nobody from the higher authorities come to speak to us to tell us something about the road we are not coming off the road," said a concerned parent.
According to the protestors, they made contact with the Ministry of Public Infrastructure and were awaiting the arrival of a representative.
Residents on the picket line said they were told that the community would only be placed under a Neighbourhood Democratic Council (NDC) after the upcoming local government elections.
During the protest, an official from the Community Development Council, who identified himself as "Mr. Boyce," arrived and informed the residents that they should come together as a unit and set up meetings with the Regional Chairperson. The man stated, "We understand the children have to go to school, we understand the road is bad but everything can't be done at the same time."
Mr Boyce added, "This road is slated to be done in this new budget. We managed to get people to come and conduct surveys to get to put it in the budget and this road is already slated to be done."
In response, a parent stated that she was open to what everyone had to say but was sad that no one had come to their rescue and helped with repairs to the road. "It is really paining me… knowing that we have so many things going on two and a half miles in there and nothing has been done in 20 years," she said.
The woman added that they were firm about continuing to protest until their needs are met. "We are not going to come off the road until we get real, real justice, because somebody gon come now and say, y'all call off the protest 'cause we gon fix the road. How could we be sure that when we stop protesting that we are going to get the road fixed?" she questioned.
As she became emotional while voicing her concerns, the woman noted that she does not know how she would react if anything happened to her child while travelling to school.
While the main concern of the residents is the road, the community is faced with other problems, including a lack of job opportunities as well as a lack of access to some utility services.
Mr Farrier told Stabroek News that job opportunities are scarce for persons in the area. "Most of us in here we either have to burn coal or cut wood; it's very meagre money we making in here. Only persons with really good qualifications would get to travel to Georgetown for work," he said.
He and another resident further said that they feel like the community is being neglected. "Look, the other day I went into GPL and they told me that Kuru Kuru is not on the grid. Linden got telephone we can't even get telephones. If you ain't got a cellphone you can't access the internet. Why?" he asked.
Residents are hopeful that something would be done to ensure the road is in a state that would allow vehicles to traverse comfortably.  
Around the Web