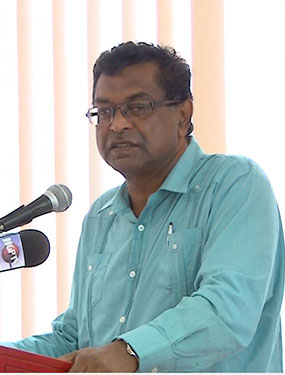 Over 90 Customs Anti-Narcotics Unit (CANU) officers are currently participating in the agency's annual staff training and Minister of Public Security Khemraj Ramjattan has pledged to provide them with more resources to execute their mandate.
Ramjattan was speaking on Monday at the opening ceremony of the agency's annual staff training, which was held at the National Racquet Centre in Georgetown, under the theme "Stemming the flow of narcotics through capacity building and inter-agency collaboration."
The five days of training, which began on Monday, will see the officers exposed to a number of core practical subject areas, such as the rules as it relates to the use of firearms, the handling of prisoners, techniques for searching passengers, cargo and vehicles, airline operations and the documentation of airline landings.
Ramjattan pledged to offer financial support. "We got to put more money and we will," he noted.
Ramjattan pointed out that the budgetary consultation process has started and it has been indicated to the Minister of Finance Winston Jordan that more funds will be needed for training. "This is so important. More money will be needed for assets and a materials and vehicles to do the patrols and also for information gathering; the data all being stored so that you can quickly go in and get the data so that you can know a thing or two even in advance of let's say a raid or an interview," he added.
Ramjattan also acknowledged CANU's continued training programme and the increasing number of participants.
He told the officers that as individuals they can make a difference through the capacity building training they will be exposed to so that they can counter the flow of narcotics.
"…Because a lot of people sometimes feel that this narco-business is bigger than even government and, in a sense, sometimes it is and they then feel that the little that they do will never ever counter the trade and the business of dealing and cultivating and marketing because it is so big," he further explained.
Noting that even in Guyana the cultivation of marijuana seems to be appealing to sets of people, especially in the riverine areas and the interior, Ramjattan acknowledged that the profits from the illegal drugs are "great motivators" for involvement in the illegal trade. "And so as a unit you will have to know that larger picture so that you can learn to play your role. 'How do I as an individual officer at CANU manage to cut the profits from this big monster?' Even if it's going to be just a part, assuming that it's a big monster with all the limbs, brains and whatever…," he said, while likening the narco-trade to a big multinational cooperation.
Ramjattan also noted that the huge profits from the trade can even seep into the judiciary, the political administration and even law enforcement and he credited the relevant units, such as CANU, the Police Narcotics Branch and Guyana Revenue Authority (GRA) for ensuring that Guyana has not reached such a level.
Meanwhile, Deputy Head of CANU Lesley Ramlall said with the establishment of several locations across the country, the agency is in a better position to combat the narcotics trade. "Our intelligence and operational capabilities as well as training capacity have increased significantly," he noted.
"It should be noted that whilst we focus heavily on court training, both locally and overseas, to satisfy our mandate and stem the supply side of narcotics, we have also started to target its demand side," Ramlall further added.
For the past year, he said, more than 60% of the ranks underwent first responders' training, while an additional amount have completed their photography training, thus boosting the capability to present better evidence in court proceedings as well as embarking on language training. On the latter point, he noted that CANU now has the ability to utilise its own interpreter of Spanish and Dutch.
Around the Web