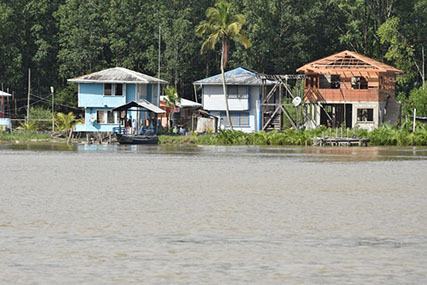 Sherman Lewis, the Toshao of Smith Creek Village in Region One says part of his Village Council plans for the next three years, is to establish a multipurpose centre and an improved drainage system.
In a recent interview with the Department of Public Information (DPI), Lewis said that because Smith Creek is located at the edge of the Barima River, when there is a high tide the water  lodges in the village for a prolonged period causing the area to become very swampy since there is poor drainage.
"This poses a danger for our children in the village, because sometimes they go play and put things in their mouth and they get sick, and so that is an issue and I will be working to find a solution", he said
Lewis said that the village will be using its annual Presidential Grant Fund to partially fund the projects, and will also be approaching the government for additional support.
The selling of crab and fish is the main source of income for the over 200 residents and so, this year, the government assigned $10M for the establishment of a processing facility. 
Around the Web