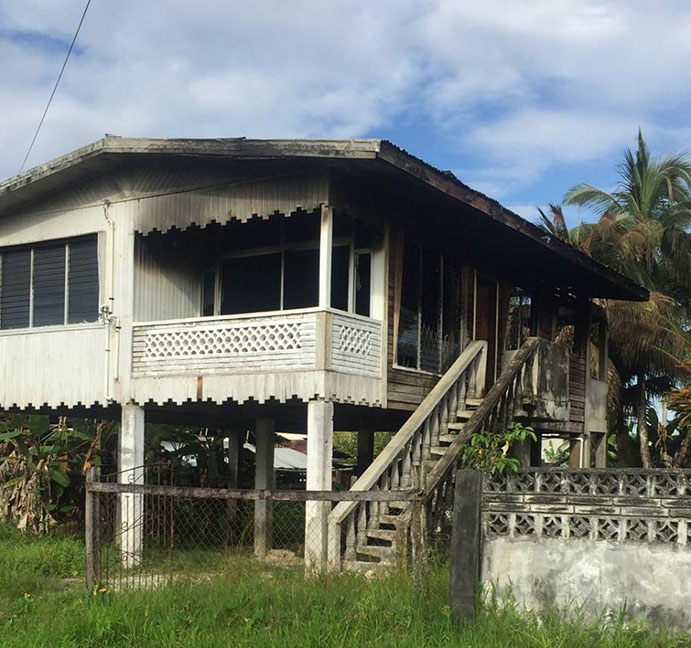 A Festival City, North Ruimveldt house belonging to an overseas-based Guyanese was gutted by a fire, suspected to be an act of arson, during the wee hours of yesterday.
Stabroek News understands that the fire started at around 3:15am yesterday and completely gutted the interior of the 1992 Blue Mountain, Festival City, North Ruimveldt house. The building is reportedly owned by Verna Roberts. At the time of the blaze, the house was unoccupied. It is unclear what might have led to the incident. However, a resident, who wished not to be named, related to this newspaper yesterday that he was sleeping when he was awoken by loud barking from his dogs. "Is arson," the man said while explaining that prior to the latest incident, there were two attempts.
"Two weeks ago, then last Sunday and now," he recalled.
The resident said it is suspected that the perpetrator/s set a tyre alight and placed it on the back steps of the house. The fire then spread further into the wooden house.
"What happen is like they try to burn the house before. They pour stuff inside but it ain't catch….I aint know wah is the story," the man noted.
The Guyana Fire Service was summoned and they responded promptly. Had they not, residents said, the fire would have spread to nearby buildings which are situated close to each other.
"Good thing, it was a still night. If it wasn't a still night, it woulda catch that building over deh," the man said.
He said that the incident has left him stunned. "The thing bothers me as to why somebody would try so hard to just bun down the house. And the lady (Roberts) is not here. I don't know of any dispute. The thing got me….I don't know why and it bothers me cause you know," he said.
According to the man, on the first and second attempts, the suspect/s allegedly tossed a bottle containing a flammable substance into the house. "….And they just roll it inside the house through the verandah and so it would spread eh because if you put a bottle to lie down it would, but it didn't catch," he related.
The man said that he believes the incident was a personal attack. "I feel it was a personal thing. Nobody makes three attempts at one place and it's not personal," he said.
Other information reaching this newspaper revealed that after the owner migrated, the house was rented to others as recently as five months ago. However, the tenants subsequently moved and the house has been unoccupied since.
The police were alerted and an investigation is said to be ongoing.  
Around the Web