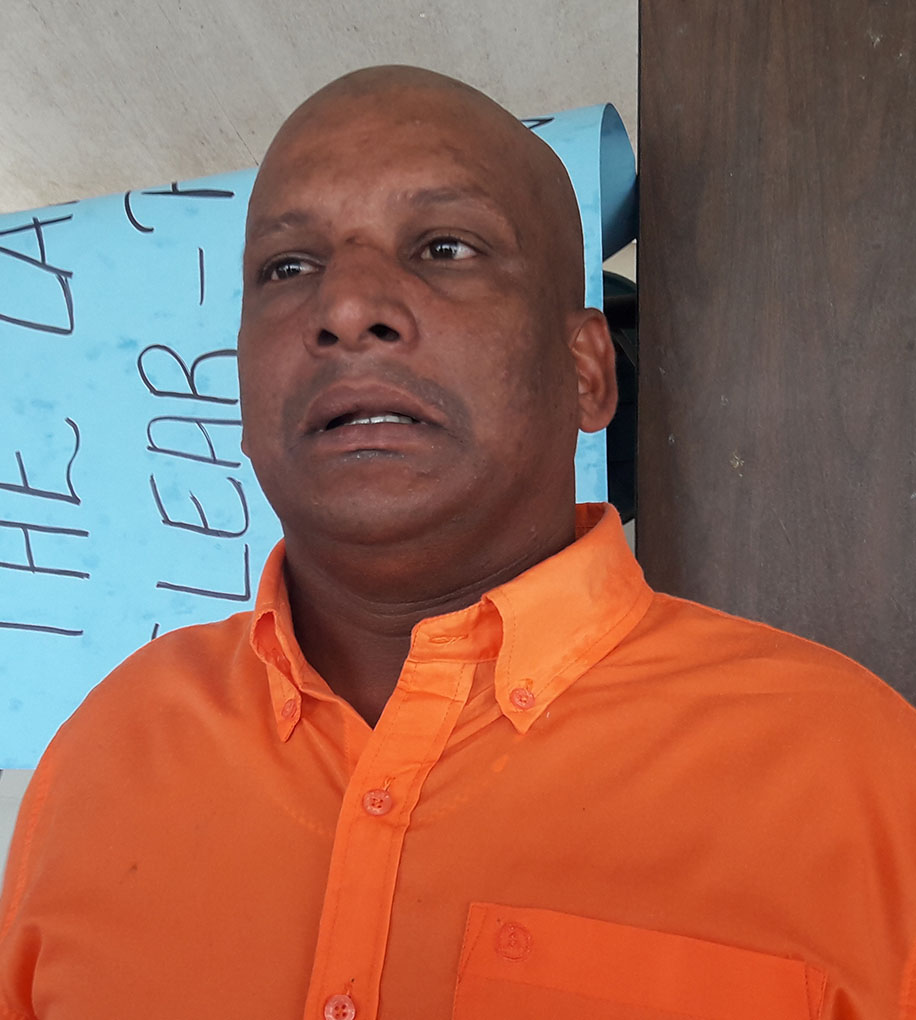 Picketing for their outstanding severance pay, former sugar workers at the Rose Hall and Skeldon estates on Monday lamented the current hardships on their families including the inability to educate their children.
They picketed outside the Prime Minister (PM) Moses Nagamootoo's office in Port Mourant, Corentyne. His representative in the region Gobin Harbhajan later told the protesters that the PM said that he would raise the matter at the next Cabinet meeting.
The majority of the thousands of severed sugar workers received some of their severance in January of this year and the government promised the remainder in the second half of this year. With the end of September approaching there has been no further word from the government.
The picketing workers said that the first half of their severance payment has already been exhausted since most of them used the money to pay their loans, bills, send their children to school as well as take care of their sick relatives. Additionally, the workers noted that they have not been able to secure other jobs in the area that they reside.
One worker said, "Me a go beg for security wuk to keep me children in school and me na get nothing, job na deh". According to the workers, since losing their jobs, they have endured the most trying times of their lives.
Ramnarace Chandradatt, who was employed at the Skeldon Estate for 21 years, explained that his wife who is unable to see and also has a heart issue is in dire need of medical treatment which he cannot afford. "When me carry she hospital, she can't get medication, me got to find money to buy, it is not easy".
The man noted that his children are the ones who are suffering the most. He said he has four children who are all presently attending school unsure of whether they would be able to complete the school term.  "We na have job in Crabwood Creek, our union stand up for us but how long?"
He added, "The Prime Minister Moses Nagamootoo said on the television that they will find job for us but till up to now there is no job for us".
Patrick Mahendrasingh, 40, explained, that he is feeling much pressure to send his six children to school. He noted that two of his children are in high school, two are in primary school and one is in nursery school. He said, "Them (government) said them would a help we with things, me got to find me money to send them to school, pay to do SBA, internet work, we gah find we own money for my children, if me na working how me go find this?" the emotional man questioned. He lamented, "This government want me to commit suicide or murder just to send me children them to school, days when me deh home me ah sit and cry to think that I can't able take care of my children them…We punishing, we need money, give us our severance so we can live till you open work for us, give us a life", he stressed.
Mahendrasingh stated that  government officials often speak about the importance of educating the children of the country but that when such decisions are made without measures put into place to assist those affected their children are the ones who suffer the most. "Them a tell us the importance of sending them to school to do better, that is what me want for all my children, but I can't even afford to do that", he said.
The man stressed, "We have children, they need a life, me as a father can't cater for my children you know how that hurt me that I can't give me children them certain thing", the man who almost broke into tears while speaking, said.
Separate her family
Nakeshia Best, a single mother of three, explained that she was forced to separate her family and send two of her children to live in Georgetown with her mother who she thinks at this time would be better able to take care of them.
"We single parents are calling on the government for our severance, but also if they could give us a stipend until we find jobs, they don't know how hard we have it down here", she said. Salim Looknauth, 45, who was attached to the Skeldon Estate explained that he used his severance payment to pay his outstanding loan because he was not sure whether he would have been able to secure another job in time to meet his monthly instalments. The man who was employed at the estate for over 25 years said, "Me trying to secure another job but there is no job at Skeldon, (even)  a watchman wuk we don't have".
The father of four said, he is very thankful for the support of his overseas relatives, as well as donations from the Guyana Agricultural and General Workers Union and other organisations.
Meanwhile, Representative of the Prime Minister in Region Six, Harbhajan told the ex sugar workers gathered, that he had phoned the Prime Minister and informed him of the picketing action. He said that the Prime Minister told him to tell the workers that he would raise the issue at the next sitting of the cabinet.
"I communicated this with the Prime Minister directly and he tell me that let me just give him a brief after the protest and he will look into this at the cabinet level", relayed Harbhajan.
GAWU Representative, Region Six, Harvey Tambron then questioned the need for the matter to be examined at the cabinet level, "when by law these people are entitled for their severance pay".
He added, "We cannot understand what now has to be discussed at the cabinet level, they have been fooling the people all along".
Tambron highlighted that the government had promised to ensure that job opportunities be created for the workers who were all laid off. He said to Harbhajan "You heard it for yourself the people don't have job and they have medical bills, etc".
Meanwhile, the workers who braved the rain on Monday also said that they were very upset at President David Granger, who said recently at Sisters Village, East Bank Berbice that the ex sugar worker's severance payments were taking away from other sectors. The workers stressed that they are only seeking what they are entitled to by law.
Around the Web