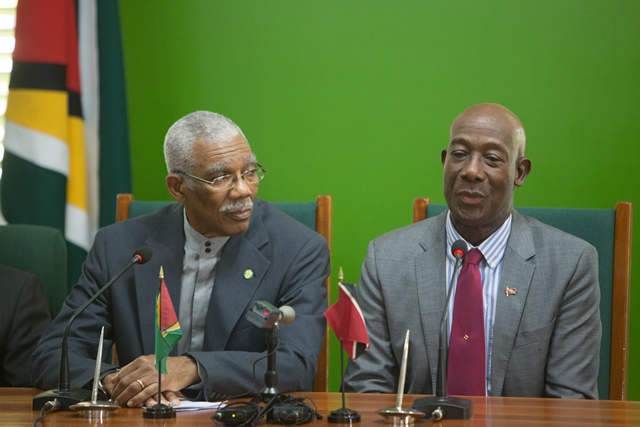 Although it has a working economic relationship with Venezuela, the government of Trinidad and Tobago fully supports Guyana in the border controversy with that country, Prime Minister of T&T Dr. Keith Rowley says.
"Trinidad and Tobago stands fully behind the position of Guyana with respect to its differences with Venezuela," Rowley yesterday told a press conference at State House where he signed a memorandum of understanding on energy corporation with President David Granger.
It was President Granger who first pointed out that Guyana's sister CARICOM country has historically stood behind this nation with regard to Venezuela's claims.
"Traditionally, Guyana and Trinidad have been very close. Not only are we the two closest English-speaking CARICOM countries …but we have had a very long and fruitful relationship. From a strategic point of view Trinidad and Tobago has always supported Guyana in its rejection of the territorial claim by the Bolivarian Republic of Venezuela," Granger said.
"We have always regarded Trinidad and Tobago as a very close friend in the international arena. We are two of the written signatories of the treaty that established the Caribbean Community and soon after Prime Minister Rowley was elected, the Foreign Minister and I went to TT to meet with him. Since then we have had frequent and fruitful interaction," he added.
Dr.Rowley was asked if his country would be willing to amend the 1990 Maritime Boundary Delimitation Agreement with Venezuela that has resulted in an overlap of maritime boundaries with Guyana and said that he was "not sure" that he was in a position "to speak to any amendment".
However, he affirmed that Port of Spain will support Georgetown "with respect to its differences with Venezuela and as long as whatever has to be done is in keeping with that commitment".
Last month, Trinidad and Tobago signed an agreement with Venezuela, in Caracas, to import natural gas from the Spanish-speaking country. That agreement would see the twin-island republic purchasing some 150 million standard cubic feet of natural gas per day from Venezuela's prolific Dragon Field.
With suggestions that Guyana gain a stake in Trinidad's Petrotrin refinery, one local government official believes that Guyana has to be mindful of such a move, given the recent agreement inked with Venezuela. "We have to be mindful of a growing relationship between Venezuela and Trinidad and Tobago and won't want to compromise our energy security by having the asset in a nation where the government grows uncomfortably close with our main detractor…Venezuela may try to influence the [Trinidad and Tobago's] relationship with Guyana," the official said.
Trinidad and Tobago's Energy Minister Franklin Khan was asked by this newspaper about possible perceptions and future implications of his country's agreement with Venezuela but would only say, "We know of all the geopolitics and so on and will answer those questions then."
Around the Web