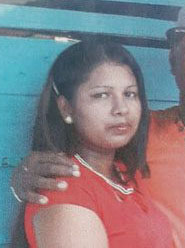 An investigation launched after a Berbice woman was murdered in August minutes after the police left her Kilcoy, Chesney house, has cleared those officers involved.
Rohanie Lakhan, also known as "Sabrina", 29, was in the process of ending their marriage after years of abuse, when her husband, Ramesh Ramdeen, 44, originally from Canefield Village murdered her in August. 
Following the murder, Lakhan's family had called for the dismissal of Police Sergeant 15818 Vanessa Williams, who they say acted carelessly when she accompanied Lakhan to her Lot 101 Kilcoy, Chesney Housing Scheme house in order for her to collect her belongings. The family had contended that if the police woman had not left the house, Ramdeen, also known as "AD", would not have had the opportunity to murder the woman. After committing the act, he killed himself.
Crime Chief, Deputy Commissioner Lyndon Alves told Stabroek News recently that an investigation cleared those officers involved. Alves, who at the time of the murder was the commander of 'B' Division and had ordered that an investigation be launched said, "I think that thing has completed and based on the investigation the police were cleared based on their actions."
While not divulging much information in relation to the investigation Alves stressed that the police involved were cleared from all allegations made against them in relation to that incident.
The family had also filed a report with the Police Complaints Authority in New Amsterdam.
Around the Web