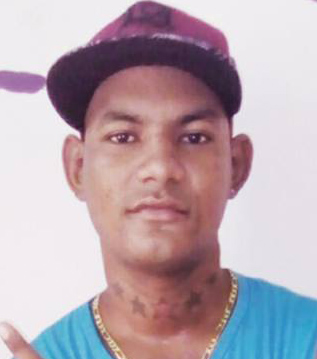 A young businessman is now dead after he was struck down on Thursday evening while reportedly attempting to cross the Uitvlugt Public Road, on the West Coast of Demerara (WCD), by a driver who fled.
Dead is Chapil Dave Kumar, 23, of Lot 5 Leonora Bush Wire, WCD, who would have celebrated his 24th birthday today.
Kumar sustained severe injuries about his body and his right foot was also severed.
He was rushed to the Leonora Cottage Hospital, where he was pronounced dead on arrival.
Traffic Chief Linden Isles yesterday confirmed the accident, which occurred around 10.30 pm.
Isles told Stabroek News that the police investigation has revealed that Kumar was standing on the southern side of the public road, waiting to cross to the northern side, when he was struck down by an unknown car.
Kumar was dragged a significant distance before the car came to halt. The driver subsequently fled the scene.
Isles said efforts are being made to identify and locate the driver.
He said that several checks were made at numerous mechanic shops in an effort to locate the car but this proved futile.
Kumar's uncle, Govinda Persaud yesterday told Stabroek News that based on what he was told Kumar, his wife and one of his nephews had gone to a Chinese restaurant on the public road for food. They were returning home when the accident occurred.
Persaud said Kumar's wife and nephew had already crossed the road and he was about to join them when he was struck.
"The vehicle travel so fast his [Kumar] right foot came off completely," Persaud said he was told, before adding that his nephew was dragged approximately 200 to 250 feet. Once Kumar's body was no longer being dragged, the driver fled the scene.
Persaud accompanied the police yesterday morning to two nearby businesses to review the surveillance footage but they found nothing substantial.
He said based on what eyewitnesses related to him, the car appeared to be a new model Toyota Allion or Premio. It was white.
'He just used the car as a weapon'
Persaud issued an appeal to anyone who might have information about the driver to come forward, while noting that his family wants justice for Kumar.
"Driver like that, we need to get them off the road. I am a driver myself. I am a driver for approximately 21 years and if I did anything like that to anybody family, I need not drive away," he noted.
Persaud believes that the driver should have stopped and rendered assistance to Kumar by taking him to the hospital. "…He coulda render assistance and save the life… He [Kumar] was too bad for he to save but then again the precautions are listed… He coulda prove his innocence—that, you know, that this guy [Kumar] was trying to cross the road and I struck him down and you know, those kinda things—but he did not do anything like that… He just used the car as a weapon and continue his journey," he added.
The man said he is hoping the driver will be apprehended soon and the law takes its course.
Kumar fathered a daughter from a previous marriage and his wife is currently several months pregnant.
Around the Web