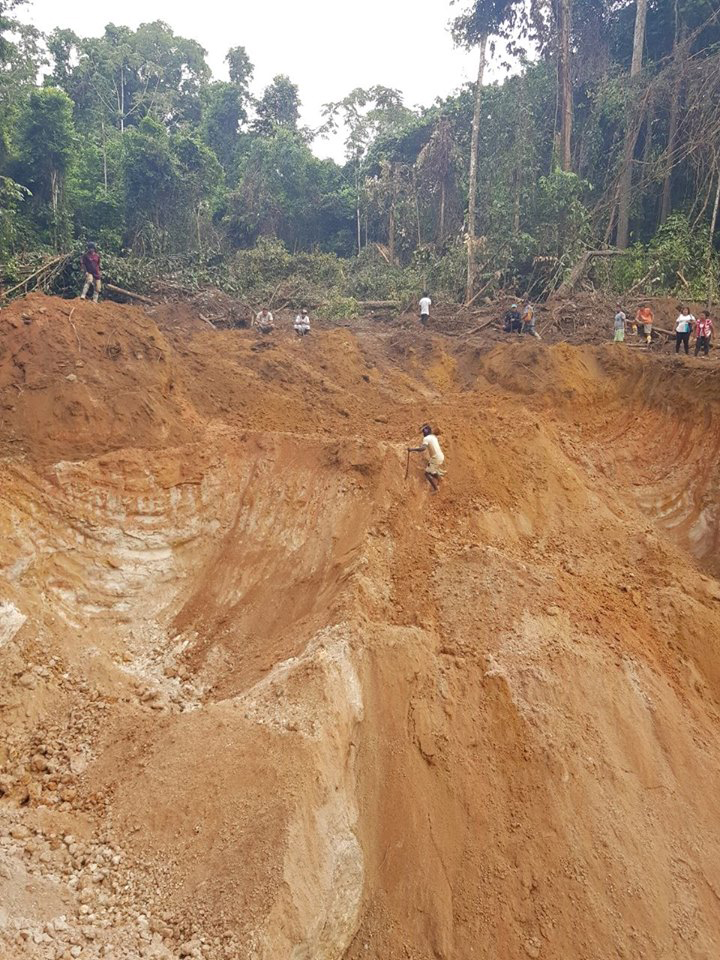 A mining operation located on disputed land at Batavia, in Region Seven, was shut down by residents yesterday morning, following the miner's reported disregard of a letter from the Ministry of Indigenous Peoples Affairs, which insisted that operations be suspended until after a meeting of stakeholders scheduled for Tuesday. 
This newspaper yesterday reported claims made by Batavia's Toshao Oren Williams that a miner, who has been identified as Ricky Ramnarine, illegally moved in on the land two Saturdays ago and began clearing the sections, which he identified as his mining block.
Williams explained that though attempts were made by the Village Council to engage the miner on the issue, they were forced to travel to the city to seek assistance from the Ministry of Indigenous Peoples' Affairs.
Further, the Toshao said he was informed by the Guyana Geology and Mines Commission (GGMC) that Ramnarine had been granted a permit in 2002 for which he had been paying, while the village lands only received its title in 2014, a revelation which had caused further confusion.
However, Williams, yesterday told Sunday Stabroek that they were able to meet with the Minister of Indigenous Peoples' Affairs Sydney Allicock as well as other officials from the GGMC. He noted that while an invitation was also sent to Ramnarine to attend the meeting, the miner was a no show, citing emergency reasons.
 Notwithstanding, the Toshao said a decision was made to schedule a meeting in the village with all stakeholders, the miner included, on Tuesday to address the issue.
Added to this, he said, a letter, signed by the Minister, insisting that mining operations at the location be paused until the meeting on Tuesday was dispatched to the miner.
However, according to Williams, who has since travelled back to Batavia, a village meeting was held on Friday and information was received that the miner was still carrying out work on the land, despite receiving the letter. As a result, a decision was made to visit the Regional Chairman and the police, who according to the Toshao, gave no satisfaction. Sunday Stabroek was told that the situation intensified yesterday morning when approximately 40 residents from the village ventured to the location where they reportedly found works in progress. This reportedly prompted them to take matters into their own hands to halt the operation, which resulted in an argument between villagers and the workers on the ground.
"At around 10 am I got a call from the police saying that my residents had armed themselves with cutlasses and guns and went into the backdam to the miner. The General Manager lied to the police about that part… even if those who took cutlasses took it because it's customary when you going in the backdam because is forest you have to go through. They didn't take it to go attack anybody," Williams said.
"After I got that call, I went into the backdam myself and found a GGMC officer from Region Seven there who said they issued a cease order to the miner until Tuesday after the meeting. The residents were pleased with that and we left the backdam," the Toshao added. (Mariah Lall)
Around the Web