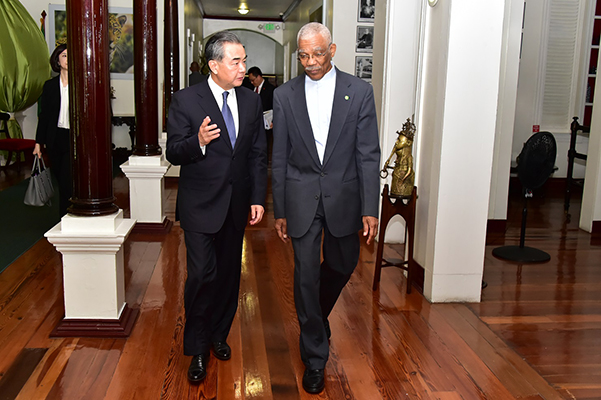 President David Granger yesterday met with China's visiting State Councilor and Minister of Foreign Affairs Wang Yi at State House, where they discussed areas of mutual interest.
The Ministry of the Presidency said Wang, who was accompanied by China's Ambassador to Guyana Cui Jianchun and other dignitaries, met briefly with the president during a courtesy call.
In a statement, the Ministry of the Presidency said President Granger, who described the visit as "historic," noted that both countries have collaborated on a number of fronts, including agriculture, culture, defence, education, infrastructure, security, sport and trade over the years. It was also pointed out that both countries are committed to the protection of the Environment.
"We applaud the People's Republic of China's 13th Five-year Plan (2016-2020) which aims at achieving a 'green economy' by introducing 'green' low-carbon industries; expanding sustainable energy sources; extending forest protection; and establishing a 'green' development fund," Granger was quoted as saying.
Like China, the Head of State said Guyana is protecting the environment and is looking forward to enhancing cooperation, the ministry statement added.
Granger, it further said, also noted China's Silk Road Economic Belt and the 21st Century Maritime Silk Road Initiative, for which Guyana signed a memorandum of understanding on cooperation in July. "We feel it could contribute not only to Guyana's development or its own hinterland but also to penetration of the continent for commercial and other purposes by other countries. This means that the 'Belt and Road' initiative will be an asset for international development, not just for the local economy," he observed.
Through the initiative, the ministry said, Guyana will benefit significantly in the areas of infrastructure development, trade and investment as well as other critical areas of mutual interest.
Meanwhile, Wang, whose brief visit to Guyana ended yesterday, said China believes all countries are equal, irrespective of their size and noted the need for greater democracy in international relations. "We have strong confidence under your leadership our relations will be strengthened…cooperation has been growing from strength to strength," he was quoted as saying.
Wang also said the "Belt and Road" initiative will be developed in an environmentally-friendly manner. "China believes in green, environmentally-friendly and sustainable development…we believe there is tremendous untapped potential for our cooperation in pursuing the green aspects of development," he added.
Also present at State House during the visit were Prime Minister Moses Nagamootoo, Minister of Foreign Affairs Carl Greenidge, Minister of State Joseph Harmon, and Minister of Agriculture Noel Holder, as well as officers of the Foreign Affairs ministries of Guyana and China.
Around the Web