Youth organisation Nulli Secundus, birthed out of the First Assembly of God church at Wortmanville, on Friday handed over a newly constructed wash bay to the Charlestown Secondary School.
Members of the youth group, along with the church's pastor, who is a former student of the school, officially handed over the wash bay to the school at a general assembly.
The idea for the wash bay came about after members of the youth group saw a need for it at the school. Members of the group conducted several fund raising activities to construct the wash bay for the school at a cost of about $400,000.
Chief Education Officer Marcel Hutson was present at the handing over ceremony and urged the students to take good care of the wash bay. Hutson stated that collaborations between schools and different organizations are very important for moving education forward.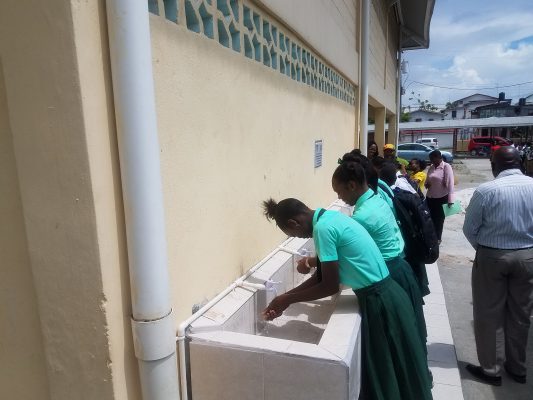 "What this group has done is a testament to what other groups should be doing in terms of moving education forward and I would like to commend this group for what they have done," said Hutson, who then went on to commend the teachers and staff at the school for facilitating the group and allowing them to assist.
Hutson then offered the students encouragement, stating, "Please remember your reason for being in school is to learn. Wherever you came from has no bearings on what you can become."
Speaking to the media after the presentation, Hutson called on other groups to collaborate with schools and the Ministry of Education to further support the education system and bring "positive vibes" to schools so students would be able to focus on learning.
Nulli Secundus, which means "second to none," is geared towards the development of leadership skills in young people across the country. The group has done work for the past 10 years in several indigenous communities, teaching the youth skills to foster their development and make them effective leaders.
Around the Web