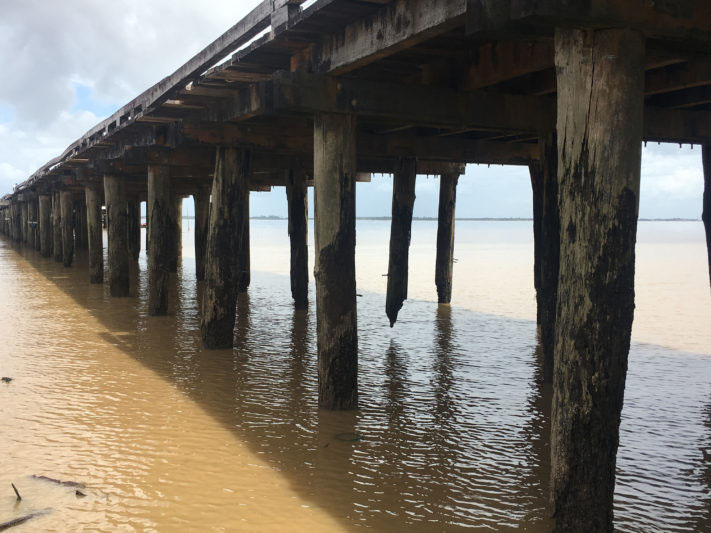 More than two months after bids were opened for rehabilitation works on the dilapidated Leguan Stelling, a contract has been awarded and Cabinet has noted the transaction.
Minister of State Joseph Harmon, during a post-Cabinet press briefing yesterday, said that the $413.2 million contract was awarded to Maraj Contracting Services. This is one of several contracts under the Ministry of Public Infrastructure that Cabinet noted at its recent meeting.
Stabroek News had visited the Leguan Stelling early last year and drivers and other persons who use the facility likened it to a "death trap." Numerous piles that were intended to support the stelling were rotting and almost falling off, while various other parts were in a deplorable condition.
In a July, 2017 Stabroek News report, users of the stelling had expressed fears of it collapsing because of its state.
Boat operator Bassant (only name given) had related that the stelling was slowly getting worse.
"If you only go under the stelling when them vehicles driving pass, then you gon' be really worried. Every time you there and it pass, the whole thing does shake and tumble and you does got to wonder how much more pressure it could take," Bassant said.
The man explained that in addition to the constant fears of the stelling collapsing, drivers were also forced to reduce their loads out of fear of causing damage to the stelling.
In July this year, the National Procurement and Tender Administration Board (NPTAB) opened the bids for the repair works.
Meanwhile, Harmon also said a contract worth $19.9 million for the construction of a timber structure within Wakapau Village, Wakapau River, Region Two, was awarded to Paramlall Goberdhan Contracting and one worth $24.8 million was awarded to Fix it Depot for the procurement of line hardware for the Lethem Power Company.
Harmon further disclosed that contracts for the rehabilitation of two interior airstrips also engaged the attention of Cabinet. The first pertained to the Chi Chi West Airstrip, in Region Seven, which was awarded to K.P. Thomas and Sons Contracting Incorporated at a cost of $118 million. The second contract, worth $68.6 million, was awarded to Mohamed Ramzan Alli Khan Construction for the rehabilitation of the Bemichi Airstrip, located in Region One.
Around the Web