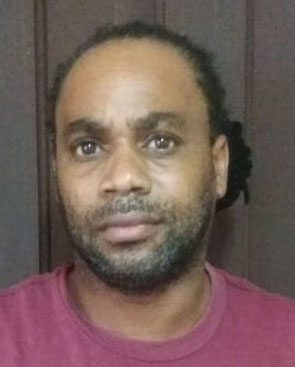 Sherwin Apple, one of the two suspects in a rape video that went viral and who was discovered dead at the Kitty seawall on Tuesday, was murdered, an autopsy showed yesterday.
Public Relations Officer of the Guyana Police Force, Jairam Ramlakhan yesterday confirmed that Apple died as a result of drowning due to compression injuries to the neck.
As such, a murder investigation has been launched.
The autopsy was performed yesterday morning by Government Pathologist Dr Nehaul Singh at the Georgetown Public Hospital mortuary.
Apple, 41, a clothing vendor of William Street, Kitty, Georgetown and Silver Town, Linden, was discovered lying face down in the mud at the Kitty seawall near Vlissengen Road on Tuesday morning.
At the time of the discovery, blood was running from his nostrils.
It was initially suspected that Apple might have ended his own life following the circulation of the video which was brought to the attention of the Guyana Police Force and the Childcare and Protection Agency, which have both launched investigations.
The second suspect was arrested on Tuesday evening. He remains in custody.
However, sources have told this newspaper that the suspected victim, a teen girl, has denied she was the person featured in the video.
Commander of 'E' Division Anthony Vanderhyden had told this newspaper that the suspected victim was questioned on Tuesday morning in the presence of her mother and she denied being the victim seen in the video.
He had also stated that the mother also denied her daughter's involvement in the video.
Apple's family is calling for a thorough investigation into the matter.
They said they never believed claims that he might have taken his own life and now that they have confirmation they are seeking justice.
Telisia Mansfield, Apple's cousin related to this newspaper that Apple's death has left his entire family circle in a state of shock.
"Whoever do it, they day coming", Mansfield said.
She said Apple was a very loving and caring individual and she cannot understand why someone would want to end his life.
"He and nobody never had no vybz. He was so loving when it comes to children you know because he leh me son start walk and he start saying couple words. Yeah he was good so I don't know who would really want kill he fuh go and do something like duh", she said.
Mansfield said she last saw Apple alive on Monday morning when he cooked and sent food over for her. He did not appear to be stressed at that time, she said.
 "….And I trouble he, 'I seh wah going on cuz? Hear he, 'nothing'", Mansfield recalled while noting that Apple subsequently left and went to Georgetown.
She said when he returned, he and some friends were imbibing in his apartment.  "And he just tell them about death. Soon he gun dead and dah is wah he just saying all the time", Mansfield said.
She added that on Monday night, she was talking to her sister's fiancé when she saw Apple empty his garbage. "…And he (Apple) seh `cuz ah coming back'. That was the last thing he told me", she said.
On Tuesday morning, Mansfield said that she tried calling Apple but got no answer. "…I did ringing down he phone because I see he ain't pull up he blinds and stuff so I was like worried about he and we deh home and we hear they find a Rasta man on the seawall. I saying dah is not me cousin because I know he won't go drink no poison and them thing so this morning (yesterday) now we hear somebody murder he after they cut he", she related.
She stated that throughout Monday evening following the circulation of the video, she was made to understand that Apple was receiving phone calls.
"He was getting phone call right through the night and somebody seh he come back around 1 something (Tuesday morning) finding out about this hotel so he went with a car man round that time", she said.
Around the Web