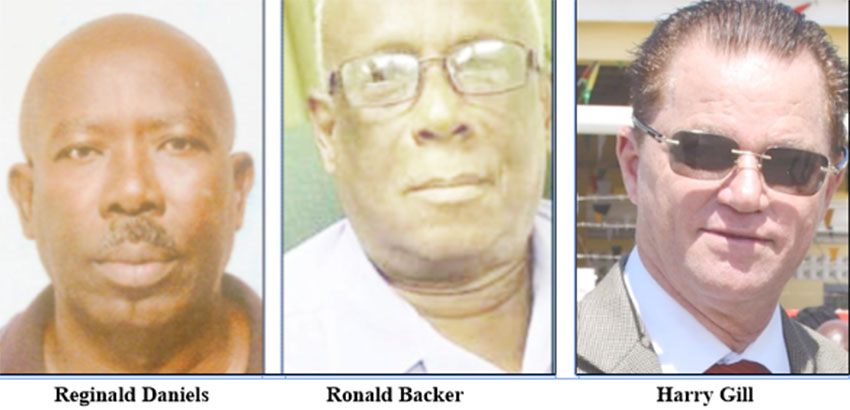 One day after this newspaper publicized a suit against Ronald Backer—political advisor to Minister of State Joseph Harmon, over a US$15,000 debt he owes a former friend, PPP/C Member of Parliament (MP) Harry Gill has also come forward with similar complaints against Backer.
Like the case brought by Reginald Daniels who is seeking to recover his US$15,000; Gill said he too, is hoping that Backer's conscience would prick him to do what is morally right and repay the US$2,751 he borrowed from him more than 20 years ago.
As with Daniels, Gill loaned Backer the money while they both resided in the United States (US) but he (Backer) subsequently remigrated to Guyana without repaying the men who also now live here as well.
While Daniels has filed a suit against Backer in the local courts which the latter is arguing has no jurisdiction to hear the matter as the transaction between him and Daniels was done in the US, Gill had taken the political advisor to court in the US and was awarded judgment for the sum, but Backer never paid him.
In court documents seen by this newspaper, Backer who subsequently filed for bankruptcy, argues that as a result, he does not have to repay Gill, though he acknowledges owing him. Gill is hoping, however, that the political advisor's conscience would lead him to repay his debt.
In a telephone interview with the Stabroek News, a clearly frustrated Gill said, "it is appalling that this government has the reputation of employing and being associated with persons of (such)  repute."
Backer, before packing up and returning to the country of his birth, generated debt to a bankruptcy list of 50 US companies including six credit card companies, a number of hospitals including Kings County Hospital, telephone companies of which Verizon is one, cable companies as well as telephone companies, and a gas company among quite a few others.
Gill is the only individual listed among the 50.
Gill said that sometime in 1996, Backer borrowed US$2,400 from him after explaining that his son was getting married and he was short on cash to pay for the wedding. He said Backer had asked him for US$3,000 but he gave him $2,400—all the money he had at home at the time.
Gill said that while he was initially reluctant to lend Backer the money, he eventually did, as one of his (Gill's) friends of over 35 years, had asked him to assist the now political advisor.
An irate Gill said that Backer, who was employed in real estate explained that he was "closing" on the sale of a property, and would reimburse him within a few weeks, but he never did, while ignoring his phone calls for over a year.
He said it was out of frustration that he finally took Backer to the Small Claims Court to recover his money for which he was awarded judgment on January 27th of 1998. According to court documents, Gill was awarded the full sum he lent Backer in addition to interest which together amounted to US$2,751.
The man said he has, however, never seen a cent of that money as Backer "simply disappeared," while adding that not even the Sheriff Division in the State of New York could locate him to enforce the judgment.
The MP said that he was later informed that Backer, who accuses him of harassing him whenever he would ask for his money, had remigrated to Guyana.
Gill said that on several of his visits here since then and while the current government was in opposition, he met Backer on the corridors of the Parliament Building and when he enquired about his money, Backer told him that he had secured a job with the APNU faction of the coalition government, he was not being paid a salary since the then PPP/C government "had not allocated any money to the Office of the Opposition."
 "I now know that was not true," Backer said in a letter dated January 4th 2017 which he penned to President David Granger voicing his frustration over the man's non-payment and seeking the Head of State's intervention since Backer was employed with Government.
He said in his bid to get back his money, he also solicited the assistance of former Mayor Hamilton Green, whose friendship with Gill Backer had used to get the money.
Hammie
But according to Gill, "Hammie told me that this was unlikely as Backer had accumulated lots of debts since his return to Guyana. He was so desperate, Hammie said, he could not even pay the rent for the house he was living in," Gill said in the letter to President Granger.
After the 2015 elections which saw the APNU+AFC coming to power, Gill said he met Backer several times at Parliament, and though he tried discuss an installment repayment plan, the man's behaviour has always been a threatening one, reminding that he had filed for bankruptcy in New York, "and therefore owes me nothing. He was not even remorseful," Gill said.
Meanwhile, pursuant to Gill seeking Harmon's assistance on the issue as well, Backer, in a confidential Memo to his immediate boss sought to explain that since he had filed for bankruptcy, all debts owed to Gill had been cancelled.
Referencing in the Memo the June 21st, 2004 order in which he does not have to repay since he has filed for bankruptcy, Backer also took the opportunity to remind Gill that the law also bars him (Gill) from demanding the amount owed.
That law the political adviser advanced, "supersedes any and all lower court orders," adding that "hence, all debts to Mr. Gill were cancelled as of June 2014." 
This, Backer pointed out, was because Gill is now in the category of "creditors holding unsecured non priority claims," since he would have filed for bankruptcy against him.
Though he understands the legal position on the issue, however, Gill is still hoping that principle and good conscience will guide Backer to repay what he knows he owes, especially since his financial situation has improved and he is in government for which he should cultivate traits of decency.
Gill said he has gotten nowhere with his complaints to the President who has told him that he would not be getting involved and that he can do as he sees fit.
Gill said he had indicated to Granger not wanting to pursue the route of going public with his plight since he knows it would cause considerable embarrassment to him and possibly the government, but "it didn't bother him one bit."
Gill said that unlike the 49 US companies which Backer owes, he is merely one individual and is not protected by insurance policies for his losses like those giant businesses and corporations.
He explained that the judgment he was awarded was valid for 29 years which has since expired and is pleading with Backer to repay what he owes. Gill said had he known at the time he lent Backer the money that he had owed all those companies, he would not have gone ahead with the loan.
Meanwhile, Daniels' suit comes up for hearing before Justice Gino Persaud at the High Court in Georgetown tomorrow.
Daniels, in his statement of claim, said that while Backer acknowledges the outstanding debt to him, his response has only nonchalantly been to the effect of saying, "boy that's a lot of money."
He said he lent Backer the money in June of 2007 to help him avoid a bank foreclosing on his house and while he promised to repay within a year, he never did.
Daniels said he saw Backer when he returned to Guyana in 2011 to assist the current government with its elections campaign and he had asked for his money then and even after his appointment as political advisor, but to no avail.
Daniels said he told his former friend that since he was now earning a salary, which he says stands at in excess of $500,000 monthly, he needed to be repaid his money but to no avail.
He has expressed the belief that the political advisor is "willfully and deliberately" refusing to honour his debt to him, "even though he is capable of paying the money owed."
Backer, however, is contending that the local courts have no jurisdiction to hear the matter brought be Daniels.
Around the Web