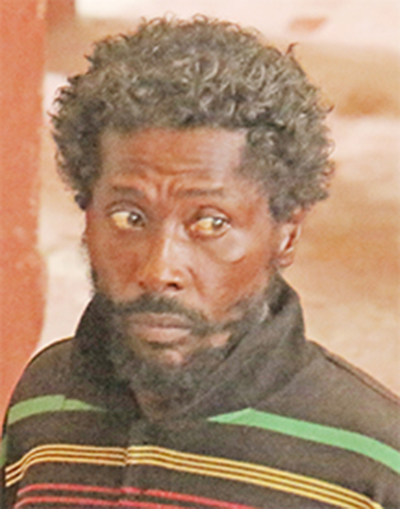 Labourer Toney Marcus was yesterday morning sentenced to eight years in jail for chopping a man, whom he said owed him $5,000.
Two weeks ago, the 40-year-old Marcus admitted to the charge of wounding Etwaroo Narine, called 'Cow,' at McDoom, East Bank Demerara, with the intention of causing him grievous bodily harm or to maim, disfigure or disable him.
His sentencing was, however, deferred for a probation report, which, among other things, reveal-ed yesterday that Marcus suffers from some amount of mental illness, for which he has had to be admitted to the psychological ward.
Probation and Social Services officer Aggrey Azore, who read the report, said Marcus' condition is treatable, but noted that he does not take his medications.
He said it was discovered from interviews conducted, that the accused has a habit of lashing out at people, and had even served a previous 3-month sentence for assaulting his mother.
The officer said that Marcus has, however, expressed remorse for his action but added that he was angry that he had not gotten back his money from the complainant.
Prior to imposing the sentence, Justice Brassington Reynolds, before whom the matter was called, explained to the unrepresented Marcus that the court had to consider both the mitigating and aggravating circumstances of the case.
To this end, the judge considered that the complainant had been chopped more than once, while pointing out to the accused that he needed to thank his "lucky stars" that Narine did not die from the injuries inflicted.
That being said, the judge then told Marcus that he needed to be in a controlled environment, especially since he does not take his medication.
Justice Reynolds commenced sentence at a base of 18 years, three months from which he deducted five years for Marcus accepting culpability at the first given opportunity and an additional 4 years, three months for the time he has been on remanded.
From the remaining nine years, the judge deducted a further one year after considering the probation report.
The state's case, presented by Prosecutor Tiffini Lyken, had been that on July 6th, 2014, Narine was at a shop with friends when the accused approached and asked him for "something," while at the same time threatening him.
The accused, Lyken told the court, returned some 30 minutes later and began chopping the man about his body. He was subsequently rushed to the Georgetown Public Hospital, while Marcus was arrested and charged.
He was charged with attempting to murder Narine, which he had vehemently denied. He, however, copped to the alternative count of feloniously wounding him.
"I chop he 'cause he owe me $5, 000," the unrepresented Marcus had told the judge.
The matter was heard at the High Court in Georgetown.
Around the Web