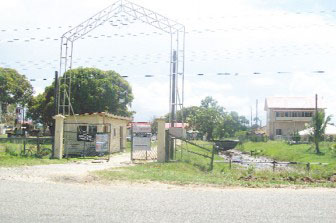 The police are currently on the hunt for a total of 13 juveniles who escaped from the New Opportunity Corps (NOC) at Onderneeming, Essequibo, in two separate breakouts between Thursday and yesterday morning.
Divisional Commander Khali Pareshram yesterday afternoon told Stabroek News that the first escape occurred around 10 am on Thursday and resulted in 10 juveniles managing to flee.
The second breakout, he added, occurred around 4.45 am yesterday.
In the first instance, Stabroek News was told, the juveniles were conducting chores in the yard of the complex under the supervision of the administrator and other staff members. They allegedly ran towards the western side of the compound, which is not completely fenced, and escaped into the backlands. The relevant authorities were immediately contacted by NOC staff and ranks from the division were deployed into the backlands in search of the escapees.
However, up to late yesterday afternoon Pareshram said none of them had been located.
Among those on the run are teenagers who were convicted for offences such as simple larceny, wandering, burglary and possession of an unlicensed firearm.
Just two months ago, 11 juveniles had escaped from the facility. They were apprehended shortly after.
In recent years, the NOC has been put under scrutiny due to complaints by juveniles about the conditions at the detention facility.
The government has also taken several initiatives to address the situation. Just recently, it was decided that the NOC would fall under the Ministry of Social Protection and not the Ministry of Education.
Around the Web