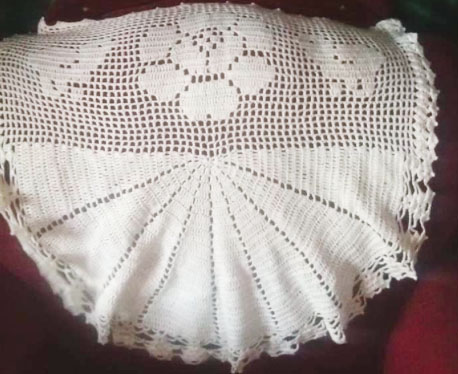 Battling Lymphatic Filariasis for most of her life, it has become a struggle for 63-year-old Edna (not her real name) to move around as the disease has progressively degenerated her body, but she marches on, putting her fingers to work and earning an income through knitting.
She fights against the pain, centred on her left leg, and the depressed feelings, by creating chair backs, centres for coffee tables and other items.
Her customers are mainly from nearby villages but because of the quality of her work, she sometimes get orders from North America. She finds it challenging to purchase the crochet thread though because the price has increased.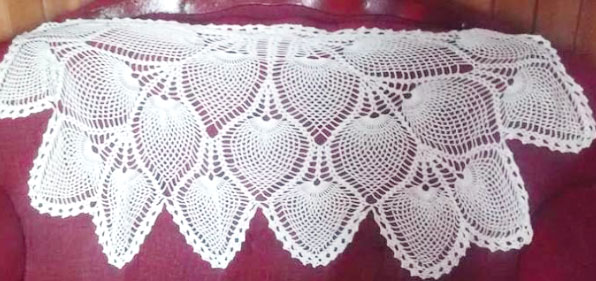 According to the World Health Organization (WHO), lymphatic filariasis commonly known as filaria is a neglected tropical disease, which later results in painful and profoundly disfiguring visible manifestations of elephantiasis, hydrocele and lymphedema.
Infection occurs when filarial parasites are transmitted to humans through the culex mosquitoes. It is usually acquired in childhood causing hidden damage to the lymphatic system.
The WHO reports too that "These patients are not only physically disabled, but suffer mental, social and financial losses contributing to stigma and poverty."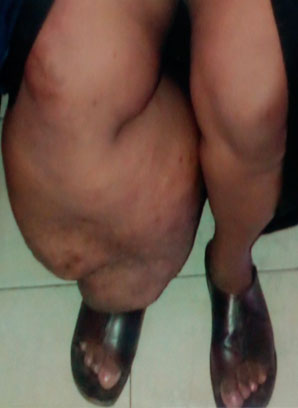 With her condition causing her to be confined to the home, Edna is very happy that she got opportunity to acquire her skills in knitting at the age of 12.
At that time, someone started an empowerment session, which she, along with other young girls and women in the village attended.
Keeping up with the age of technology, she would also use the internet to research new patterns in an effort to enhance her skills further.
Just twelve
Edna was just 12 years old when she noticed swelling to her left leg. But because "the swelling would go away and come back," she ignored it. "Some people tell me that the hot and cold, like when I come in from the hot road and go and wet my feet, cause it to swell like that," she related in a recent interview with Stabroek News.
It was only at age 17 when the swelling persisted that she was encouraged to take the test for filaria. She recalled visiting the health centre very late one night for the nurse to take her blood sample.
Fifteen minutes later, she was devastated when she received the positive results that would change her life forever.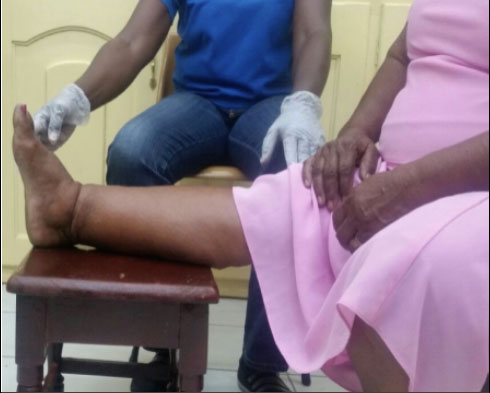 Not only was she faced with the grim reality that there would be no cure for the disease, which has progressed to elephantiasis, but Edna was also concerned about the stigma.
In the case of Lorraine Anacharsis, 56, she was clinically diagnosed with filaria in her right breast in 2013 after she started having symptoms such as swelling, fever, rash and pain.
Surprisingly, she has done six blood tests at nights since then but they all turned out negative "because I think the disease is too deep in the blood."
According to her: "One time when the test was negative again, the doctor asked me where I was from and I told him North Ruimveldt, he said that area is infested with mosquitoes and that I have filaria."
Lorraine, a security guard, said, "all the time the breast just keep developing and I would feel uncomfortable. I can't fetch weight; I get pain in my back and shoulder too. And when I lie down I get pain in my belly."
Along with painkillers, she uses another pill to ease her suffering, but this can only be administered every six months.
She is also distressed that she has to "pay $8,000 to get brassiere to fit me… I want to do a breast reduction."
Lorraine said she visited the Georgetown Public Hospital Corporation (GPHC) to inquire about the breast reduction and "they tell me they can't do it because once its filaria, it would grow back."
Scorn
Meanwhile, Edna would try to hide her condition by wearing long clothing, but this is increasingly impossible because of the now extremely swollen leg.
She gradually reduced her social activities and would only venture out of the home when she has to visit the doctor.
"People watch with scorn as if I asked for this. It is hard living with this sickness.
Even a nurse behaved as if she scorn me when I went to the [local] hospital for dressing and the foot start to ooze. She din suppose to do that, she shoulda know better," Edna said sadly.
Initially she started going to the weekly clinic at GPHC, traveling for over 15 miles to get there. She quit after a few weeks though because it became financially challenging on her.
She recalled that in 1998, her leg started to "swell like balloon and burst…" She went back to GPHC and got "dressing and treatment."
A few years later she again visited the outpatient clinic at the GPHC and was told that she should go to the health centre in her area.
Nowadays, her daughters assist her in washing and cleaning the leg at home two times per day after a nurse showed them what to do. But she sometimes runs out of gloves and gauze to clean it.
"When it starts to ooze, we would bandage it or I go under my [mosquito] net and give it air," she informed this newspaper. "One time a lot of fine worms came out and my daughters picked them out."
Edna, who uses medication to prevent the foot from being infected, said; "I cried a lot with this foot. I went through a lot…"
And as if she didn't have enough to deal with, Edna was told that she has diabetes and the pill that was prescribed to her "burn out my sugar and I nearly fall in a coma."
'Take advantage'
Looking back, she said, if there was one thing she would have done differently, it would have been to take the pills to prevent her condition.
Unfortunately, she never heard of the pills then and said the younger generation especially now has an important role to play in the elimination of the disease.
She urges everyone to "take advantage" of the Lymphatic Filariasis Mass Drug Administration (LF MDA) campaign that is being undertaken by the Ministry of Public Health through the support of the Pan-American Health Organization (PAHO) and the WHO.
The new strategy involves the distribution of the two types of tablets that act against the parasite; Diethylcarbamacine (Dec) kills the young parasite in the blood stream and albendazole sterilizes the adult worms.
According to the WHO, those drugs are deemed the safest and are the best method used in combatting LF.
The LF MDA is a revamped campaign that was launched in 2017 and this would be the second year for its implementation in Regions Three, Four, Five and Ten.
In newspaper advertisements that seek to encourage residents to continue to support the initiative, PAHO deemed the 2017 campaign a "resounding success."
Encouraging people to support the drive, Edna lamented: "I can't do anything now to change my condition…. But I'm praying that my children don't get. I don't want anybody else to get it, that is why I want people who are making styles to take the tables to understand how hard it is to live with this sick."
Dr Allena Hercules who is attached to the Neglected Infectious Diseases Department at the GPHC said that the two-week exercise targets school children as well as persons at fixed points such as schools, workplaces and markets in the first week, and at homes during the second week.
She told this newspaper too that because of the aggressive campaign to ensure more people are reached, Guyana achieved over 65 percent distribution of the drugs.
Guyana was among the countries in the Americas to sign on to the WHO's Global Programme to Eliminate Lymphatic Filariasis by 2020. The following year an exercise was conducted to map the disease in the country.
According to the doctor, for Guyana to have complete elimination of the disease it needs "five successful consecutive years of [at least] 65 percent distribution."
It is crucial for "these doses to be repeated for five consecutive years so as to avoid the probability of the worm reproducing within the next year. Everyone has to take the pills at the same time so no one would be re-infected."
Dr Hercules also attested that patients would go out of their way to hide their swollen conditions because of the stigma.
She pointed out that minibuses have refused to transport persons with filaria, telling them that "they don't have space for them and that would take up more than one seat."
She lamented that these patients cannot even afford to travel by taxi because many have lost their jobs due to their conditions.
She too hopes that residents would accept the treatment through the LF MDA campaign, as it would help to reduce the number of patients in the early stages.
Once persons start noticing the signs, they should visit the clinic on Monday, Wednesday or Friday nights to have a microscopy test done.
The reason for the test being done at nights is because it is then the parasites are active in the bloodstream. Within 15 minutes of taking the test, a person would know whether they are positive or negative for the disease.
A PAHO report stated that based on the results from the national survey carried out in 2001, Guyana opted for the MDA approach in 2009.
Since then, MDA with dec and albendazole continued in Region 5 and expanded to Region 4 in 2013, and in 2015 and 2016 it expanded to Regions 6 and 10 respectively.
Following the 2016 MDA round, the country performed an overall evaluation, hence the initiative to modify the distribution strategy and to include the new drug distribution platforms.
Guyana and three other countries in the Americas, Haiti, The Dominican Republic and Brazil are yet to eliminate the disease.
These countries have fully implemented their MDAs though, with Brazil coming close to declaring elimination.
Of the 10 administrative regions in Guyana, only Region One, Barima-Waini is not considered endemic, having only 0.8 percent filaria presence.
About 20 patients, mainly from Region 4 visit the clinic on Tuesdays and Wednesdays to access care. According to a survey done in 2001, Region 4 has the highest prevalence of the disease.
It was found that most of the patients come at the later stages when the signs are chronic, thus making the disease impossible to cure.
At this stage, the clinic aims to provide care that would prevent disability, caused by the advanced stage of lymphedema.
If not, patients would have to be dependent on close relatives for support and assistance.
"Filaria is not a fatal disease, per se, but because of the consequences of having the chronic signs… it is important for us to assist these patients at an early stage," Hercules said.
Around the Web