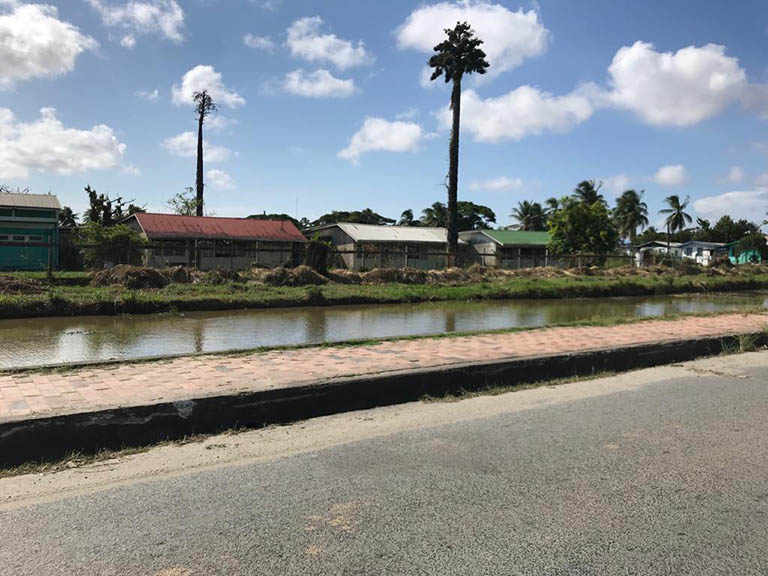 Some residents of Mayor Patricia Chase-Green's constituency, Tucville – North Ruimveldt, have complained that the historic March 2016 Local Government Elections (LGE) did not usher in significant development for the community as expected.
Flooding, overgrown vegetation, clogged drains and pothole-filled roads continue to plague residents of Constituency 12, which is represented on the Georgetown City Council by the Chief Citizen. Chase-Green has been the city's Mayor since the March 2016 LGE. Prior to that, she served for 22 years on the oft-criticised council including as Deputy Mayor.
With Chase-Green leading the council, some residents felt that pressing issues in the community would have been tackled. However, they said this has not happened and their hope for improvements now lies in the hands of the constituency councillor who will be elected when LGE are held on November 12.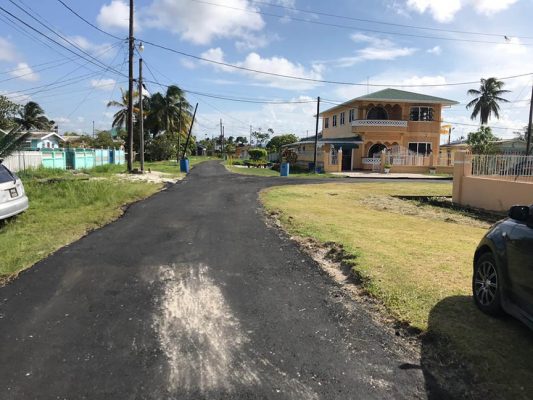 When contacted on the residents' complaints, Chase-Green cited financial constraints but said some work had been done. She told Stabroek News that with $5M recently made available for constituencies through the Ministry of Communities, some streets in the Stevedore Housing Scheme were rehabilitated. She also pointed out that drainage and irrigation works were carried out in Festival City, North Ruimveldt, bringing some amount of relief to residents who experience periodic flooding.
In addition, the Mayor said, some lights are soon to be installed at priority areas in the community.
Nonetheless, Floyd Ward, a resident of Lamaha Park lamented the deplorable state of the roads in his community. Several streets, Stabroek News observed, have deteriorated to the extent where the layer of clay bricks have eroded leaving the sand exposed underneath. Potholes have developed into craters over time which become pools whenever it rains, forcing residents to have to carefully navigate their way on the street, Ward said.
"The entrance nice up by some UG (University of Guyana) students but that's all we have seen… we have the roads to fix, the drains to clean and we need street lights. Nothing has happened in that past two years. The entrance does be dark at nights and you can easily get stick up," explained Ward, when asked about the issues that need addressing.
In North Ruimveldt, a businesswoman who asked not to be named, complained of flooding and no street lights, issues she had expected to be fixed following the 2016 LGE.
"The biggest problems in this area are the flooding and the need for street lights. A little rainfall and we get flood. This has always been an issue for us and we thought we would have gotten some relief with a new council," the businesswoman asserted.
"We see her on TV, this is her constituency but we only see her on TV. We haven't seen her around here since she become the Mayor," the woman said when asked about Chase-Green's presence in the community.
Another individual said he has not noticed any developments in the community and promises made during the campaign leading up to the 2016 elections are still to be fulfilled.
However, in Guyhoc Park, a resident said that they have noticed the construction of two foot path bridges. She also recalled seeing speed bumps being erected in the community and painted, along with the commissioning of a recreational space some time ago.
"We noticed they build two bridges recently linking Guyhoc Park to Festival City, we are happy for that because we had two pieces of wood across the trench and if you had a bicycle, you had to hice (lift) it up and walk over," the woman said. The Guyhoc Park resident added that most persons would keep their environs clean.
The woman further stated that she has noticed Chase-Green in the community from time to time, interacting with residents and listening to their complaints.
"She can only do so much, but she would be out here listening to complaints and talking to residents," the woman stated.
She believes, however, that there needs to be more consultation between residents and the council as this can see projects being better executed.  She noted that residents will be able to point out what is a priority for them and aid in the execution of the project.
"If we have to build a bridge and it cost too much, residents can help decide what is needed. If the bridge is $7 million and the council only have $5 million, we the residents can help raise the money for this project because we know what is important to us. The council don't come to us, and keep telling us they don't have money and that should not be," she opined.
Meantime, the Mayor pointed out that infrastructural works in her constituency was only made possible this year with the $5M awarded to constituencies.
"This year 2018 is the first year in the history of the council 2016-2018, a sum of money (was granted) to do work in the constituency. Other than that, we were depending on the council to do this work," Chase-Green said.
"There has been lots of financial constraints by the entire council. We would have like to do so much in the past three years, every councillor had constraints in their constituency," she remarked.   
In 2019, she explained "the council will have to allocate monies to constituencies. In case anything happens, the representative will be able to use money out of that funding to do works. If you don't do that, the constituency will be at loss."
Touching on her presence in the constituency, Chase-Green said she tries to meet with her constituents as often as she can. However, she noted that she not only serves Constituency 12 but the entire city and her post as Mayor demands her time.
"I may not see everybody in my constituency but I try to meet them… I am in one of the largest areas. I try to be around the community. Sometimes when I am walking around in my constituency, some persons are at work or not at home for one reason or another. Also, I have all the other constituencies to respond to not only my own, as Mayor," she stressed.
For the second time in 23 years, LGE will be held in the Municipalities and Local Authority Areas. This year's election is scheduled for November 12.
Around the Web