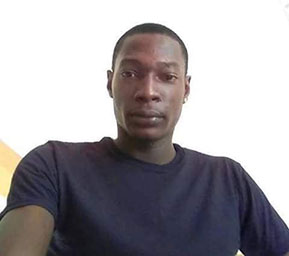 Mikhail Punch, the driver of the car, which crashed into a utility pole at Liliendaal, along the Rupert Craig Highway on Friday, succumbed to his injuries on Saturday.
He is the second person to die resulting from the accident. On Friday, Isaiah Corlette, 25, of 99 Castello Housing Scheme, was pronounced dead on arrival at the Georgetown Public Hospital (GPH) where they were rushed following the accident. The third passenger, Akeisha Jones, 24, of Leopold Street, Werk-en-Rust, was admitted in a critical condition.
Punch, 25, of Lot 33 Middle Street, Sparendaam, East Coast Demerara, a miner and father of one, died sometime Saturday afternoon at the hospital.
Punch's mother Alexis Roberts told this newspaper that on the night of the incident, she received a call and was informed that her son was involved in an accident and was hospitalised. She added that details remain sketchy. Roberts described her son as a loving and caring person, who despite his flaws, looked out for everyone.
A post mortem examination is expected to be performed on Punch's body sometime this week.
It was previously reported that at about 02:20am on Friday, motorcar PWW 676 driven by Punch was proceeding west along the southern carriageway of the Rupert Craig Highway at Liliendaal, when Punch reportedly lost control and collided with a utility pole.
As a result of the impact, the occupants were flung onto the roadway and sustained injuries.
They were rushed to the GPH where Corlette was pronounced dead while the others were treated and admitted to the Intensive Care Unit (ICU).
The occupants were said to be returning home, having left a popular night spot located on the Plaisance Railway Embankment where Corlette was celebrating his 25th birthday.
Around the Web