The authorities in Suriname have launched a search for Guyanese fishermen, who went missing in their waters on Saturday evening after a storm split their fishing boat into two.
The missing men have been identified as boat captain Rondell Vanderstoop, 27, his brother, Norris Vanderstoop, 18, and Andrew Beaton, 23 all of Epsom Village, Corentyne.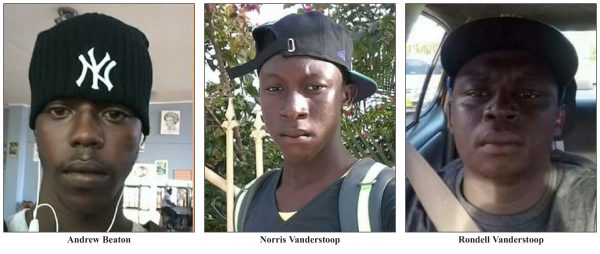 Stabroek News was told that a sudden storm on Saturday evening damaged the five-man crew's boat and resulted in them being pitched into the water. 
The two other fishermen have been identified as Steve Mc Bean, 22, and Rodwell Captain, 22, also of the Corentyne. 
McBean and Captain, this newspaper has learnt, told the authorities in Suriname that they clung to a pole in the water until they were rescued by a passing vessel. 
A source in Suriname told Stabroek News that the survivors said they called twice on the three missing men, who answered both times but on the third call there was no answer. 
An investigation has been launched and the Suriname Coast Guard and fishermen are presently searching for the missing men. 
Around the Web