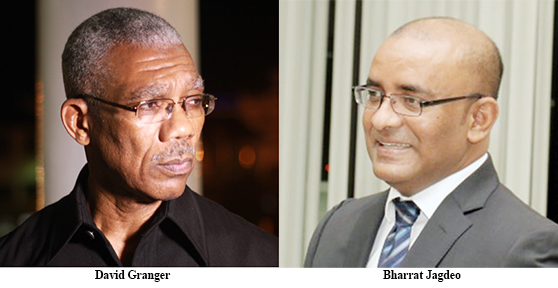 President David Granger has said he would like to improve his relationship with Opposition Leader Bharrat Jagdeo, given its importance for domestic policy, although he believes that his cordiality has not been reciprocated.
"… I would like to continue to improve my relations with Mr. Jagdeo," Granger said in a Q&A published in the quarterly Guyana Review, a supplement of the Stabroek News.
"I think Mr Jagdeo has a different approach to politics and I am not going to criticise him. His approach is probably endorsed by his party. I have never refused to see him on any matter and every time we meet we do not only discuss the matter on the agenda but we have discussions on wider issues and I expect very soon I hope we can meet to discuss some of those. There are three issues on the agenda we are going to discuss and I look forward to meeting him. He has experience. As you know he was Finance Minister with Dr Jagan. Since 1993 he was in government, in Finance, so he has a lot of ideas," Granger said.
Granger, however, noted his belief that former presidents need to be more prudent in their remarks. "They have had the opportunity to run the country and now they are no longer in the presidency they should not try to impede or obstruct other persons from doing their jobs. Perhaps it is a role for other critics. I think former presidents should be more guarded in their approach to the presidency," he explained. 
"I have never criticised any former president and that is a mark of my interpretation of cordiality," he noted. Jagdeo is a former president.
Asked if he has seen any reciprocity of cordiality, Granger said, "I have never seen any evidence of that." 
He added, "…I do not complain but I was very concerned that when I went to the National Assembly [and] I was not given an opportunity to be heard, it was more than an absence of cordiality when members of the National Assembly start banging the tables for an hour and displaying placards. I thought that was vulgar and I said so, I do not expect that a Head of State should be treated like that and the previous year they [opposition MPs] just stayed in the lounge. I do not know what they were doing there and only came in after I spoke. So, for two years I was subjected to… I would say insulting behavior by Leader of the Opposition and that is not a sound basis for cordial relations."
Although Granger said Jagdeo has shared ideas with him, he added that he could not run away from "the fact that some of those ideas while the PPP [People's Progressive Party] was in government were misguided" and that the damage has to be repaired.
He gave examples of "that crazy fibre optic cable from the Rupununi, just gone, millions gone. The (sugar) factory at Skeldon, a lot of money was wasted. The arrangements for the Berbice River Bridge almost destroyed the National Insurance Scheme."
The previous PPP administrations, he said, failed to deal with the problems in the sugar industry and they knew the arrangements they had in place could not produce cheap enough sugar to sell on the world market.
"They were just kicking the ball down the road and now we have to bring that pretense to an end and deal with hard facts. We have to reform the sugar industry," he said.
Around the Web