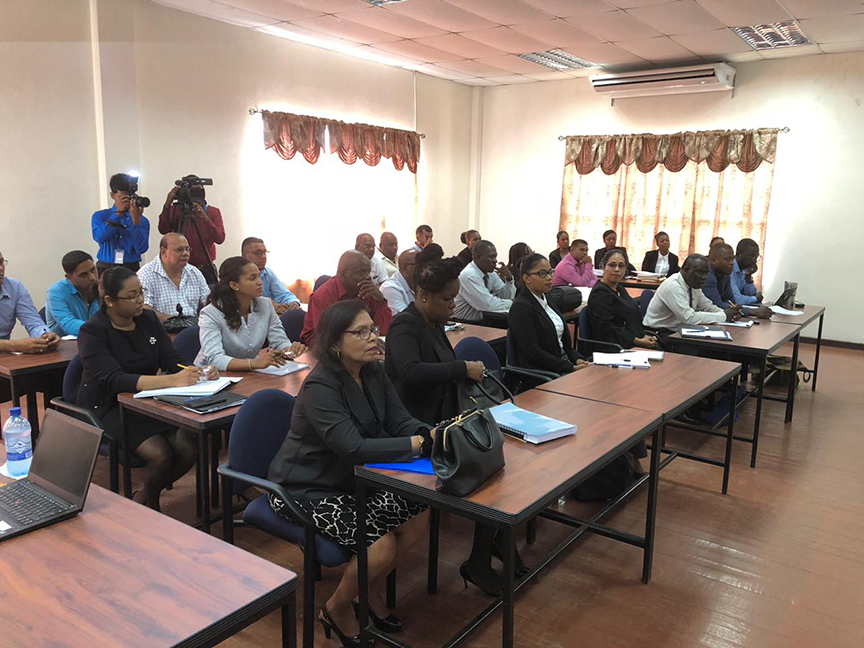 Special Organised Crime Unit (SOCU) adviser Dr Sam Sittlington yesterday told investigators and prosecutors that too much time is being wasted on preparing criminal case files, which fail to hold up in court. 
"It's a very important area of work and we see a lot of cases getting to court and failing at court. We've seen failings when the file would go to the DPP [Director of Public Prosecutions]. We don't want files to come back to us with amendments and corrections. We want one file, one time, going to the DPP and that file being referred to charges. It's a lot of time wasting and we don't need that," Sittlington said as he opened a training session aimed at assisting prosecutors and investigators in preparing files for anti-money laundering and assets recovery cases.
The opening was held yesterday at the Police Officers' Training Academy, where three days of training will be conducted by experts from the Asset Recovery Unit (ARU) that is linked to the Regional Security System (RSS), based in Barbados.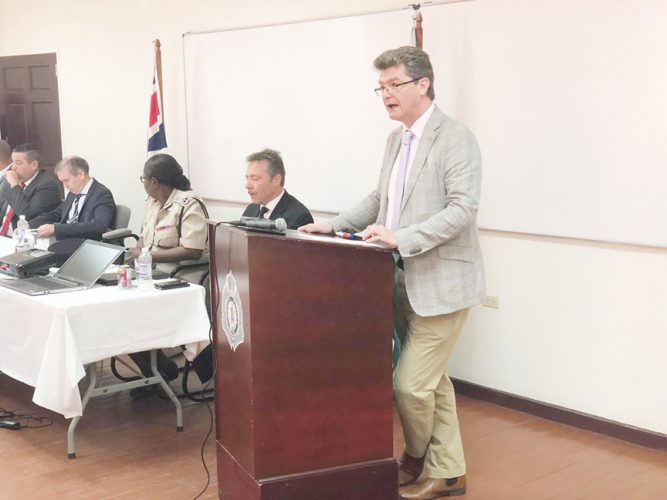 The participants are drawn from the Chambers of the DPP, the Guyana Revenue Authority (GRA), the State Assets Recovery Unit (SARU), the Financial Intelligence Unit (FUI) and SOCU.
Sittlington told them they would be learning about prosecuting money laundering and assets recovery cases and how to put together "good investigative files and gathering evidence for successful prosecutions."
Meanwhile, British High Commissioner to Guyana Greg Quinn delivered the feature address and stated that the course is part of the latest round of training for Guyanese law enforcement, which is part of the broader support from the United Kingdom for the security sector reform.
He explained that the course will focus on assets recovery and will delve into the details of the issue of money laundering, how to gather evidence for such cases, how to seek successful prosecutions and the options for confiscating assets and cash seizures.
The participants will be able to look at case studies and real life scenarios that will allow them to see how anti-money laundering cases are pursued and prosecuted in the real world.
"The fundamental goal is to increase prosecutorial quality, thereby enhancing the quality of prosecutions pursued by the relevant authorities here in Guyana… So, this is a course which uses the real life experiences of those in the region that have been involved in the prosecution of money laundering cases in the Caribbean. Money laundering supports a variety of nefarious criminal activities that includes crimes such as drug running, extortion, corruption and terrorism," Quinn said.
He added that it is important that the state ensure it always prosecutes money laundering cases when it finds them and that criminals should have to know that they have no impunity for such crimes. "It is also relevant to know that cracking down on money laundering does not just mean successful prosecutions which put people in jail, but also involves hitting criminals where it hurts them the most – in their pockets. Hence, the importance of confiscating assets and seizing cash. Some men do not care about spending time in jail but I'm sure as hell nobody likes losing money or their assets," Quinn explained.
He added that the experts from the ARU have vast experience in prosecuting money laundering cases and he is sure that they have been involved in cases where everything did not go as planned. As a result, he argued that they would have the capacity to pass on lessons they have learned to ensure that others do not make similar mistakes.
"The UK remains committed to supporting Guyana in the wide variety of areas relating to security sector reform. That includes providing training to the relevant agencies to ensure that those who are involved in serious organised crime are prosecuted to the full extent of the law," Quinn said. He added that he hopes that by the end of the training, all the participants will have increased their skills and knowledge, which will allow them to pursue successful prosecutions of those who want to steal the assets and funds of the Guyanese people.
Around the Web