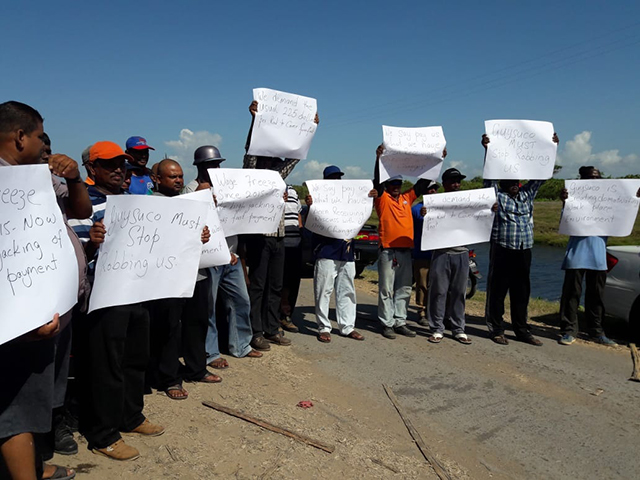 The workers attached to the mechanical tillage gang at the Albion Estate, in Berbice, went on strike on Monday and Tuesday after management reduced their payments, which they say is not enough to maintain them.
The strike began on Monday and a picketing exercise was held outside of the estate on Tuesday. Another picketing exercise was held yesterday.
Stabroek News was told that in an effort to cut costs, management reduced the rates of pay for filling of a four-foot drain from $225 a rod to $56 per rod during the first crop.
According to Harvey Tombran, Regional Representative for the Guyana Agricultural and General Workers' Union (GAWU), the company was engaged on the reduction but seemed to have been dragging its feet on the matter.
He said management unilaterally made the reduction, which led to the strike action and picketing exercise. He noted that management was informed on Monday that the workers would return to work on Wednesday. However, on Tuesday management told the GAWU representatives that the workers would not be offered work until Thursday, which led to the picketing exercise yesterday.
The workers believe that management refused to give them work on Wednesday as a punishment for their strike. They charged that workers would now be afraid to strike for their own rights if management adopted such an approach.
GuySuCo's Corporate Communications Manager Audreyanna Thomas, who confirmed that there is an ongoing issue that relates to secondary payments involving the tractor operators from Albion Estate's Mechanical Tillage section, said that it was being addressed between GuySuCo and GAWU, "through the normal grievance procedure."
Thomas explained that the sugar company has held two meetings with the union's representatives; one in July and the other in September.
She also related that GuySuCo has informed the union that the matter is at the Stage IV process and GAWU had undertaken to discuss the points raised by GuySuCo and provide feedback on the outcome of their meetings in order for the next step to be determined.
"The meeting was adjourned on that note. However, while GuySuCo [was] awaiting feedback from the union, strike action was taken on October 1st and 2nd," Thomas said.
She added that the last communication was sent to the union on Tuesday, when GuySuCo informed it of its dissatisfaction over the strike action that was taken, given that the matter is being addressed through the agreed grievance process. "The corporation awaits a response from the union," Thomas added.
'Really unfair'
Meanwhile, the workers said yesterday that they were willing to take 50% of the pay but instead it was reduced to 25%. One worker said, "If them been say 40:60—them take 60 [percent] and we take 40—we woulda understand and try but 25% them do it."
Another worker noted that he was told that management will "hold to the $56."
Roopaul Singh said, "It affects me a lot. People doing less work than me gon' work for more money than me and me working hard." He added, "Cutting that money without consulting us, without saying anything—we are saying that they should pay $225 until they get the matter resolve."
Nazir Hussain noted that "there are certain conditions we come into agreement with management and as time goes on new manager coming in and changing things and that na right at all, it affecting us very much." He further said, "It is really unfair; give we half and half. Pay us and we gon' work. But them na want come to none conclusion." (Bebi Oosman and Dhanash Ramroop)
Around the Web