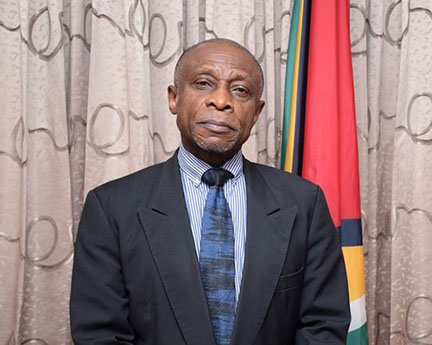 Taking into consideration the uncertainty of the global economy, Guyana is seeking to establish diplomatic missions or consulates in a number of countries, including Jamaica, Indonesia, Togo and Côte d'Ivoire.
This is according to Minister of Foreign Affairs Carl Greenidge, who noted that "As small countries, we need as many friends abroad as possible to survive."
At a press conference held at Takuba Lodge on Wednesday, Greenidge related that bilateral meetings, which Government held on the fringes of the recent United Nations General Assembly in New York with a number of states in and out of the region, and with which Guyana may or may not have formal diplomatic relations, were meant "to put in place a mechanism that would enable us to have a standing framework for cooperation with bilateral partners."   
Where missions or diplomatic representations do not exist, he said, "The intention is to try to establish them, whether it is by way of ambassadors or honorary consuls."
He added that where those representations are already in place, the aim will be to ensure that joint commissions are established and areas of cooperation identified.
Among the countries targeted are Indonesia, with whom Guyana signed a Memorandum of Understanding; and Togo in West Africa, which currently holds the presidency of the African, Caribbean, Pacific (ACP) Central Negotiating Group that is tasked with negotiating the successor to the Cotonou Agreement. Jamaica is also a country of interest. Like Guyana, Jamaica is a part of the 12-member Central Negotiating Group.
With Indonesia, Guyana has also signed an agreement providing for visa-free travel for diplomats and senior officials.             
The establishment of these missions, Greenidge said, will enable Guyana to speak to countries about a variety of things, including economic cooperation.
"Economic diplomacy requires that we do have outreaches in places that enable us to speak to partners in the Third World," he stated.
Noting that Guyana is a member of the Common-wealth, the Minister recalled that in the past, citizens of Commonwealth countries could enter Guyana without the need for a visa.
"Today, Commonwealth countries impose visa restrictions. We would like to revisit that so that we can have an easier interface with whom we share[d] a lot of institutional and cultural commonalities in the past," he said.
"Economic diplomacy, deepening political diplomacy, dealing with an uncertain international environment as regards international relations. It is difficult. There are near trade wars taking place, and pressures on international institutions," said Greenidge.
As such, he noted, "We have to have bilateral partners so we can have common approaches to things."      
Around the Web