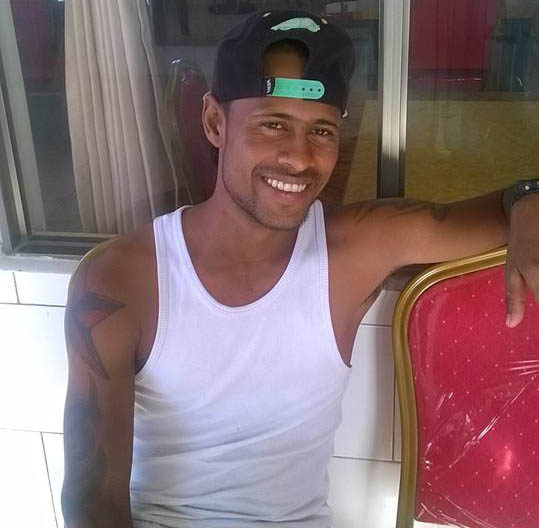 The suspect who was arrested in connection with the murder of handyman Christopher Swamy at his Mon Repos, East Coast Demerara home early Sunday morning was positively identified during an identification parade yesterday.
This is according to Commander of 'C' Division Calvin Brutus who informed Stabroek News that as the investigation continues, investigators were up to yesterday afternoon on the hunt for the second suspect.
Brutus said an autopsy performed yesterday also revealed that Swamy died as a result of a gunshot wound he sustained to his chest.
A warhead was also recovered from his body.
The autopsy was performed by Government Pathologist Dr Nehaul Singh at Georgetown Public Hospital mortuary yesterday morning.
Swamy, 30, a handyman and father of one of Lot 161 Mon Repos, ECD was shot after armed bandits invaded his home where he and his family was celebrating.
The incident occurred at around 1:30 am on Sunday.
The police in a press release had said that investigations revealed that Swamy, his wife and her sister, along with Rawle Williams, 28, and his sister Marcia Williams, 38, of Mon Repos, ECD, were liming and imbibing in front of Swamy's home, when they were pounced upon by two masked men, one of whom was brandishing a handgun.
The suspects reportedly relieved Marcia of her cellphone and a sum of cash, lashed Rawle on his head and shot Swamy in the left region of his chest after which they fled the scene.
Swamy and Rawle were rushed to the Georgetown Public Hospital where Swamy was pronounced dead on arrival while Rawle was treated and admitted.
He remains hospitalised. His condition is said to be stable.
Marcia had previously related to this newspaper that she, Swamy, his wife and her sister, her brother and his wife were all gathered on the bridge in front of the home having a get-together as Rawle had only returned from the interior on Saturday.
She recalled that about 10 minutes after Swamy and his wife arrived at the home, they were attacked by the masked men, one of whom was armed with a gun, and who demanded their phones, money and jewellery.
"Christopher was one of the last persons they took stuff from," she said, "and they just shot him before they left".
Relatives had said as far as they knew, neither Williams nor Swamy had issues with anyone.
However, one family member had indicated that she suspects that her relatives were followed.
According to her, after Swamy and his wife arrived at the home from Flower City at Better Hope, where they worked, the bandits arrived afterwards in a vehicle.
The relative said she was informed that the vehicle was parked down the road from the home and after the shooting, the men ran to the waiting car.
Around the Web