Mahdia in Region Eight was yesterday officially declared the tenth town in Guyana by President David Granger, the Department of Public Information (DPI) reported.
The declaration ceremony was held in the presence of several Ministers of Government, Regional representatives and Mayors.
Mahdia will serve as the capital town of the Potaro-Siparuni Region.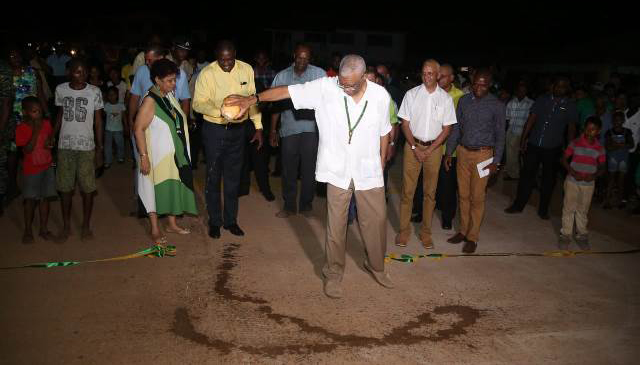 DPI said that Granger described the event as one of the most powerful economic reformers in the history of Mahdia.
"These capital towns will become hubs for development. What you'll see from now on is the development of the administrative regions. I have seen men and women who are committed to making something from their capital town so we're moving forward with the creation of these townships," President Granger stated.
He called for greater collaboration.
"You have to work with the government, region and upcoming municipality for improved services. The whole idea of regionalisation is not a pipe dream but a way to develop Guyana from the grassroots," the President said.
Minister of Communities, Ronald Bulkan said that though Mahdia's township status arrived after Mabaruma, Bartica and Lethem, the government's greatest investment was made here with the nearly $1 Billion spent in upgrades of the internal road network.
Bulkan added that much more is in store for the new town with the rebuilding of the Tumatumari hydro-electric plant which will provide reliable, continuous and affordable electricity to this part of the region.
The Communities Minister said that the government is committed to working with the Toshaos of the Sub-regions Pakaraima, Campbelltown, Micobie; the Senior Councillor of Princeville; Regional Democratic Council members and all the residents of the region.
According to DPI,  Minister of Public Infrastructure, David Patterson said that his Ministry was challenged to ensure that its projects reflected aspects of both the green state agenda and the requirements of a modern new town.
According to  Patterson, several bridges have been rehabilitated, a reinforced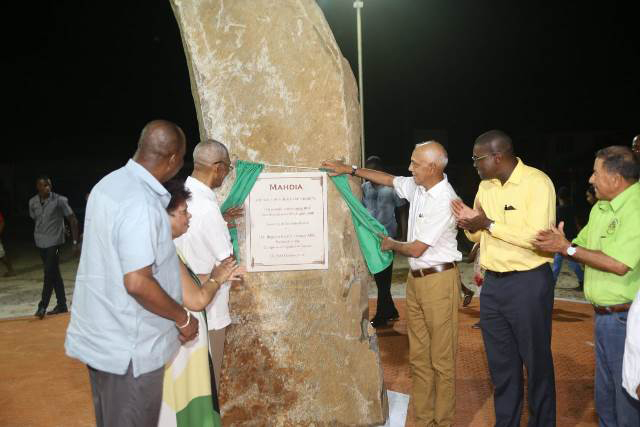 concrete rigid pavement with curbs, a network of reinforced concrete drains and culverts, complemented by road safety elements inclusive of road markings and signage have been installed.
"The establishment of this township is important to Region Eight as it will become its main commercial hub, with links to the Kaieteur Falls and access to the wealthy gold and diamond mining lands and links the adjacent Indigenous communities," Patterson stated.
Regional Chairman, Bonaventure Fredericks welcomed the township status and noted that for the first time, the residents will exercise their constitutional rights by participating in the Local Government elections on November 12.
At the end of the historic event, the Mahdia Monument was unveiled, DPI said.