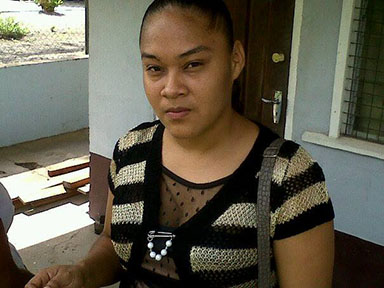 The two men who were brought to Georgetown for questioning about the murder of Kwakwani midwife Paulette Wade were released on station bail by police yesterday.
Stabroek News understands that the two men were released on Monday afternoon following the expiration of an extension granted to police to keep them in custody without charge.
However, the men have been instructed to report to the police on a regular basis until the investigation is complete.
Meanwhile, police are said to be looking at two other suspects in Kwakwani as they continue their investigation.
A total of six men were taken into custody since the woman's body was discovered in her home more than a week ago. However, of the six, three were released on station bail last Thursday, while two of the remaining three were brought down to the city for additional questioning on Saturday.
Wade, 37, also called 'P,' of Kwakwani Park, Upper Berbice River was said have to have been strangled and bludgeoned to the head.
Prior to the autopsy, Wade's relatives were adamant that the woman was a victim of foul play and that she had not suffered an epileptic seizure as police would have initially considered.
Her lifeless body was discovered on the floor of her Kwakwani home two Fridays ago, several hours after she and her daughter had retired to bed on the evening of October 25th. However, when the child awakened around 6.30 the next morning, she found her mother's motionless body on the bedroom floor.
This newspaper understands that she called out for her mother but after the woman did not respond, the child left the home to notify a neighbour. This prompted the neigbour to visit the Kwakwani Hospital compound, where she told the security guard, who in turn informed staff at the hospital.
The police were also informed and in the company of a doctor and nurses from the hospital, ventured to the woman's home, where the doctor subsequently pronounced Wade dead.
Both Wade's body, which was discovered lying face down on a concrete floor clad in her sleeping clothes, and the scene, were examined by police. The examination uncovered small bruises on one of the woman's elbows as well as blood on her mouth. A closer examination revealed that the deceased bit her tongue. There was no sign of forced entry, nor were there signs that the house had been ransacked.
Around the Web