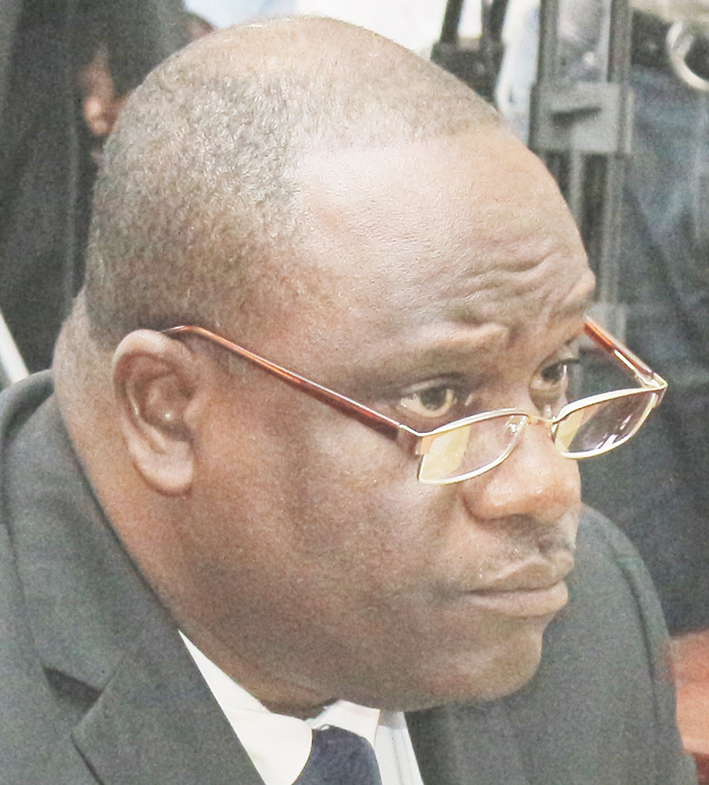 The Commission of Inquiry (CoI) set up to investigate the administration of City Hall has found that Mayor Patricia Chase-Green and Town Clerk Royston King "are not working in the best interest of the city" and has recommended that several officers, including King, be disciplined for abuse of office and other violations.
It has also been recommended that a forensic audit be conducted at City Hall by the Audit Office and that criminal charges be laid against defaulting officers if it reveals criminal misconduct
"Most of the woes of the city are due to mismanagement by officers of the council… if the main management team is incompetent, are we going to keep them in their positions?" Commissioner Cecil Kennard asked during the handing over of his report to the Local Government Commission (LGC) yesterday.
Kennard, a retired judge, indicated that having examined the submissions made to the commission, he and his team have made 31 recommendations.
The report, which has been seen by Stabroek News, has also identified several council officers for disciplinary action. Leading the list is King, who has been accused of gross misconduct, and abuse of office, among other things. 
"The Town Clerk has no authority to issue leases. That, according to my understanding of the law, first has to go to the Finance Committee and then to the full council for approval…King had no authority to issue any lease in relation to the land at Sussex Street," Kennard explained, while referring to the contentious leasing of the land, which has been claimed by the government holding company, the National Industrial and Commercial Investments Limited (NICIL).
He further noted that the land, which was leased by King to Quick Shipping Inc, belongs to NICIL.
It was explained that Transport 2803 of 1966 presented by King to the CoI is for land in La Penitence—specifically Lot 18 of the wharf area—while the transport produced by NICIL refers to Lot 1, which is in Charlestown.
King, who appeared before the CoI "under protest" and "without prejudice" to his rights, had supplied a transport to support his leasing of the land. He had also attempted during his testimony to justify City Hall's practice of procuring goods and services without contracts by saying that its bankruptcy has meant that it must resort to expedient means.
Though he did not specifically recommend that King be fired, Kennard has recommended that disciplinary action be taken against the Town Clerk, which he said could include being removed from his post or being made to face criminal charges, depending on what the LGC finds.
"He misrepresented that City Council owned land which was owned by NICIL; that could amount to criminal action," Kennard said before adding that there is some suspicion related to a payment of $625,000.
"Two official receipts were presented but the first is very questionable… Mr [Paul] Sandy [Managing Director of Quick Shipping Inc] said that his son took $625,000 to pay City Hall… I can't imagine a person walking with that large amount. Should that not have been paid by cheque?" he questioned.
King was sent on leave to facilitate the work of the CoI.
Additionally, based on evidence presented it has been concluded by the CoI that Deputy Town-Clerk Sharon Harry-Munroe is incompetent; that acting Deputy Town Clerk Sherry Jerrick should be charged with dereliction of duty; that Internal Auditor Omadele Newton should be deemed incompetent; and that the City Treasurer Ron McCalmon, who is clearly unwell, should be made to proceed on retirement. 
McCalmon has been absent from duty since February and Kennard noted that to be absent from such an important position is clearly undesirable. 
Further, the CoI has also recommended that Chief Constable Andrew Foo be charged with dereliction of duty as the probe found that he failed to prepare a report on the unauthorised removal of books from the City Constabulary Training School until after it was requested by the CoI. The CoI has also concluded that Personnel Officer Paulette Braithwaite should be deemed incompetent as well as City Engineer Colvern Venture, who has also been accused of dereliction of duty for failing to process building applications in a timely manner.
Ultimately, it is the LGC which will decide what actions are taken on the recommendations. The LGC established the CoI following a series of complaints received against the city administration.
Kennard had been mandated to "Investigate the administration and operations of the Mayor and Councillors of the City of Georgetown; [investigate] the reason for and the process by which a motion of no confidence on the Town Clerk was dealt with by the Mayor and Councillors of the City of Georgetown; and generally to investigate any matter that may be brought to the attention of the Commissioner during the Inquiry that would adversely affect the administration and operation of the Municipality of Georgetown."
Around the Web