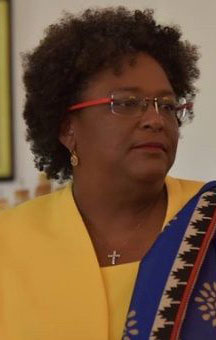 Administratively, the new categories of agricultural workers, security guards, beauticians and barbers who will be able to enjoy free movement within the Caricom Single Market and Economy space, "will be allowed to move between now and February," says lead Prime Minister of the CSME Mia Mottley.
"These are positive developments for our people and matters which we have been clamouring (for) for some time," said Chairman of Caricom and Prime Minister of Jamaica Andrew Holness.
Holness and Mottley were among leaders who spoke at the press conference on Tuesday evening at the end of the two-day Heads of Government meeting on the CSME in Trinidad.
"Jamaica has made a strong case for security guards to be included in the category of workers so that the difficulty security guards have been having moving across the region will be a thing of the past," Mottley said.
The inclusion of agricultural workers, who have no Caribbean Vocational Qualification or national vocational qualification but are known farmers and agricultural workers, to move freely will be made seamless by the move, she said.
"Countries like Suriname are badly in need of agricultural workers and therefore this would be welcome news for them."
Beauticians and barbers, who did not enjoy free movement even though they are artistes, Mottley said, had to be included. "I may not be the best person to make that comment as I like my hair natural as it is," she quipped.
The meeting agreed, she said, "if you have a Caricom skills certificate issued by one country, you don't have to go and get it renewed in any other country, all other countries will recognize that Caricom skills certificate to make the process easy and free for the applicants so that there is that hassle-free movement that we talk about now to become a reality.
Holness said that Caricom is moving towards reviewing the activities of key institutions of the integration body using a results-based approach to manage the CSME.
"We have the institutions in place. We have identified the various processes to achieve that and we will be acting with urgency to ensure that the institutions of Caricom are efficient, responsive and agile," Holness said.
In many instances, Mottley said, "Our countries do not and cannot replicate these institutions at the national level. In the same way that the Caribbean Court of Justice has national and regional jurisdictions, we believe there are other regional institutions whose constitutional documents need to be amended to allow countries to designate them as national authorities.'
She gave the example of the Caribbean Agricultural, Health and Food Safety Agency which is based in Suriname.
"We believe in Barbados, rather than creating a new such body, we can designate them our national authority and allow them therefore to serve that process. Unless we can have our labs and our markets certified we cannot export fish to Europe. We cannot export food products to other parts of the world. This is how a technical issue becomes real for ordinary farmers and fishermen and vendors in the Caribbean," she said.
By the end of 2019, she said, the Secretariat will have completed the review of all the institutions and organs so that the heads will be able to look at the review at the February 2020 intersessional meeting of the heads.
Single window
"By the end of 2021 we want to have a single window for intellectual property registration, patents, and trademarks."
The meeting agreed, she said, to simplify the process for the movement of goods approved by the Council for Trade and Economic Development. "We hope to do that by the end of 2019."
Caricom was also looking to institute a regional deposit insurance system and regional credit information sharing. "Credit information sharing is critical because too many of our citizens who want to be able to borrow money and very often, they are denied access because they do not have a credit history."
Similarly, she said, "We want to have a single window across the region for the registration of companies by the end of next year as well. This will be a major adjustment for us that goes beyond the mutual recognition."
The heads would like to have model legislation for trademarks and the harmonisation of business names completed by the July meeting as well, she said, and they are hoping that the committee of ambassadors will help to make this process seamless in between meetings.
The heads also agreed that the prime ministerial meetings on the single market that will take place between intersessional and heads of government meeting will be increased.
"It effectively means that the heads will be meeting four times a year – twice in full Caricom Heads of Government on all matters pertaining to the Caribbean Community, not just the CSME and twice related to the CSME in order to meet this ambitious agenda we have put forward."
On the discussions with the private sector and labour, Mottley said, they agreed to concentrate immediately on renewable energy, agriculture and food security, transport (air or maritime) and information communication technology.
"We believe that the opportunities for immediate action as well as investment for our citizens and our businesses in the region are there and we will work together with the private sector to make that a reality. We agreed that we will work with the private sector and labour that we will have substantive engagements between now and the July meeting so that those four areas of productive areas that we can have tangible plans."
She was excited, she said, about renewable energy and questioned why Caribbean companies cannot provide the region with renewable energy particularly "since we all know we have to purchase electricity under (a) power purchase agreement."
She added, "We heard the private sector very clearly about the mutual recognition of companies. If I register a company in one country, I shouldn't have to go and register it in ten or 12 different other countries. Therefore, we hope to have mutual recognition of companies by July as well."
The heads were cognizant, she said, "that there is about US$47 billion in savings within the community and we have to find a way to unlocking those savings such that our businesses and our governments can have access to affordable capital to borrow at affordable rates while at the same time giving our citizens and companies better options for greater returns on their money than they are currently getting from keeping their money in savings accounts where they are attracting .1 per cent and  .5 per cent across the region."
The meeting also considered the implementation plan for Haiti's full participation in the CSME. Holness said the heads welcomed the assistance Haiti will receive from the European Development Fund in their efforts to become compliant with the measures to take part in the CSME.
Around the Web