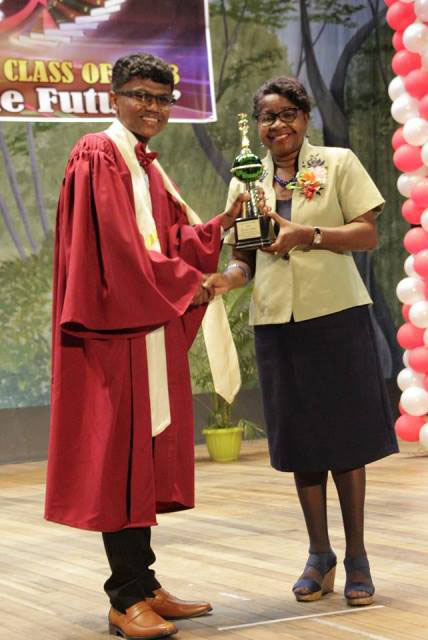 The Government Technical Institute (GTI) on Thursday hosted its 67th Convocation and Prize Giving Ceremony for its latest batch of graduates, who number 584, and they were urged to recognise their achievements so far.
This year, the Mechanical Department achieved a 92% pass rate and GTI Principal Renita Crandon-Duncan declared it GTI's most outstanding division for 2018.
This declaration was made by during her remarks at the ceremony, which was held at the National Cultural Centre.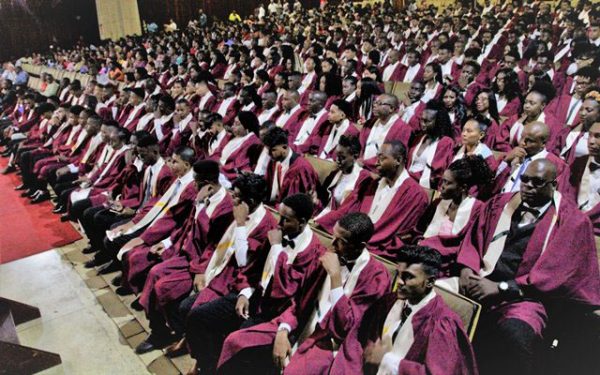 According to a Ministry of Education (MoE) press release, Crandon-Duncan said that while the Mechanical Department gained the highest pass rate, the Business Department, after vastly improving its performance, was judged the most improved department for 2018.
She also noted that GTI's overall pass rate for 2018 is 77%, representing a slight improvement from 2017's 76% and a 12% increase from 2016's 65%.
Crandon-Duncan also mentioned that two students of GTI received national awards at the Guyana Technical Education Examination for outstanding performances. Those students were Aaliyah Noble, who completed the Ordinary Diploma in Commerce programme, and Shurlun Tudor, who completed the Technician Diploma in Building and Civil Engineering, the MoE release added.                                           
The Principal further stated that the fifth batch of Level One and Level Two trainees in Competency Based Education (CBE) programmes have also graduated. As a result, those trainees are now deemed competent after demonstrating their proficiency in their respective units of competency.
The MoE release stated that 282 of these trainees were assessed and each will be awarded with the Caribbean Vocational Qualification (CVQ) by the Council for Technical and Vocational Education and Training (CTVET).
Crandon-Duncan added that through the industrial attachment programme held during the months of June and July of this year, 85 companies welcomed staff and students into their spaces and exposed them to the rudiments of industry practices. As a result, the staff continue to benefit from training opportunities and healthy relationships with industry partners. 
Delivering the feature address at the graduation was the Director of the National Centre for Education Resource Development (NCERD) Jennifer Cumberbatch, who told the graduates that they are the generation that will take the technology of today into new dimensions, while solving environmental problems.
The director advised them that their contributions to society will be determined by how they follow their dreams. She challenged the graduates to follow their quest for knowledge and reminded them that education does not stop after their graduation. The graduates were also encouraged to reach beyond existing boundaries, "You can do anything that you put your mind to do," Cumberbatch was quoted as saying.
'Finishing school'
Also addressing the ceremony was Chairman of the Government Technical Institute and Guyana Industrial Training Centre Board of Governors Vincent Alexander, who reminded the students that the GTI should also be seen as a "finishing" school. He said that during their tenure at the institution, they would have undergone a process of refinement.
He told the students that not only can they now display their certification but they can also demonstrate their maturity when they become part of the global job market and are employed in various industries.
Noting that Guyana is on the cusp of becoming an oil and gas producing nation, Alexander urged the students to take advantage of the new sector to develop Guyana. However, he advised that the development that is pursued must be done in a sustainable manner that takes Guyana into consideration beyond the oil and gas moment it is about to experience.
The Training Manager of Demerara Distillers Ltd Floyd Scott had the honour of delivering the charge to the graduates. He congratulated the students and told them that they have weathered the storm and made sacrifices to be successful.
He added that they are the fertile minds of Guyana that have the responsibility of working to improve conditions within society.
Scott urged the graduates to adopt and adapt to values, dispositions and predispositions that are acceptable for a quality life, become leaders and keep in contact with their alma mater. The graduates were further advised to keep a clear vision of their purpose in life and set realistic goals.
The 2018 Valedictorian, Tudor, in his valedictory address, told his fellow graduates that they must think about how far they would have come individually and as a class. He asked them to think about how they supported and encouraged each other during sports and the fun class experiences.
"Those moments taught me that it is not just about keeping your head in the books or phone, but taking some time to enjoy life while we study," he was quoted as saying in the release.
Tudor thanked the parents, relatives, friends and staff of the GTI for their support to the student body during their journey. He also urged his colleagues to "strive to become the best version of yourself, fly through the turbulence and live life intentionally because you are a warrior, be phenomenal or be forgotten."
Around the Web