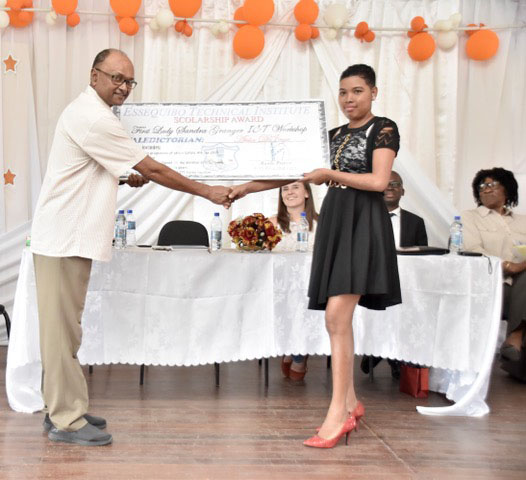 In keeping with an earlier promise, Principal of the Essequibo Technical Institute (ETI) Rawle Pearce on Thursday offered full scholarships to two young women who were among the 43 graduates from First Lady Sandra Granger's Information and Communication Technology (ICT) training workshop, which was held at the Anna Regina facility.
The Ministry of the Presidency said in a statement that Pearce offered the scholarships to Best Graduating Student Atika DeJonge and Second Best Graduating Student Jada Hendricks during their graduation ceremony, which was held at the ETI.
The two-year scholarships in ICT at the ETI will also cover free textbooks and a work attachment during the July/August vacation period. All of the other workshop participants were offered a 50% reduction in the institute's registration fees. 
Pearce also told the graduates that if they desire to assemble themselves into a group, transportation to the institute would be provided at a reduced cost.
The five-week workshop was held in collaboration with the Ministry of Social Protection's Board of Industrial Training (BIT).  It is the fifth and final one for 2018, during which some 200 youths in total have benefitted.  The ICT workshops will resume in January, with the first one scheduled to be held in Linden.   
The ministry had previously explained that the workshops are aimed at providing youths with skills in the areas of information technology, literacy and numeracy, entrepreneurship, sexual reproductive health, and Science, Technology Engineering and Mathematics (STEM).
According to the ministry's statement, Canadian High Commission Counsellor Janine Cocker, in her remarks during Thursday's graduation ceremony, said that the High Commission was continually impressed by the work done to organise workshops which improve the skill set of young people, for the benefit of communities.
"This is a great initiative … Looking to the future, ICT for development is not only about computers and mobile phones and the internet, but about support and the training of human resources to link them to communities, and this is no doubt going to lead to increased productivity, support for innovation and the impetus for inclusive growth," she was quoted as saying.
Chief Executive Officer of the BIT Richard Maughn, the statement also said, encouraged the graduates on Thursday to strive to overcome obstacles along their paths to success. "I want to tell you about the dream job syndrome—people believe there is only one path to take them to their dream job… because of certain circumstances you may not have gotten that job and you decide not to do anything…Sometimes the dreams that you have for yourself [are] too big to travel on one road, sometimes you have alternative paths you have to use to ensure that you get to your dream job," he said.
Around the Web