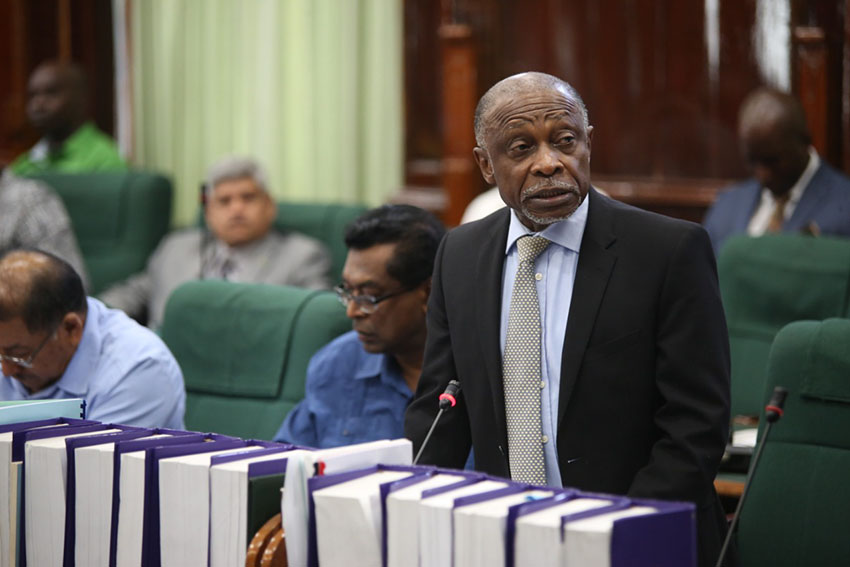 By the end of the first quarter of 2019, the Ministry of Foreign Affairs is hoping to set up a Guyana consulate in the United Arab Emirates (UAE) as part of efforts to extend its diplomatic presence as it seeks partners to assist in the preparation for the development of the oil and gas sector.
The move follows the ministry's analysis of the implications for foreign policy of the development of the oil and gas sector here, according to Minister of Foreign Affairs Carl Greenidge.  
"Most of our traditional bilateral partners have shown little interest in rendering assistance in this context, and by that, I mean the infrastructure funding and so we have to… turn to non-traditional partners as well as supportive bilateral and other agencies, private sectors and NGOs to secure funding for that aspect of infrastructure," Greenidge told the National Assembly on Friday when he made his contribution to the debate of the proposed 2019 national budget.
Greenidge noted that his ministry has been charged with accelerating the process of integrating elements of the emerging sector into the overall architecture of the foreign policy of the nation.  One such element, he said, is collaboration with other petroleum producing nations and multilateral entities in order to benefit from their experience in the petroleum markets.
He would later explain to Sunday Stabroek that it was after a thorough analysis of what was needed that his ministry formalised the strategy to focus in 2019 on finding more international partners through diplomatic channels. "One of the things we are doing, for example, we are going to open or establish more honorary consulates and look also at UAE, where we might establish an ambassador, Ethiopia perhaps [also]… there are lots of things going, so that we are deeply and widely international," he said.
Greenidge believes that the shift in focus, which will see associated spending, is necessary.
"It is what economists call marginal change; in other words, you are doing fifty things and this is the area where there will be the most significant increase in our efforts. The petro politics, as it were, and the international agencies, multilateral agencies and bilateral who can help us to support the development of oil and gas. So, we are funding the diplomats and the visits and their meetings, which are aimed at dealing with that, for example. These are relatively new areas… we will do a lot more on that in 2019 than we have done in the past, because you are only now seeking to develop the petroleum and the gas. You are coming to the point where the timing matters, funds have to be found, technical inputs have to be acquired. So there is a lot more we will do," he added.
Guyana is exploring the placement of a resident ambassador in the UAE because government believes that Guyana can learn a lot and could also benefit from the oil rich nation's willingness to fund projects. "There is a lot for us to benefit from. They are interested in funding developments in areas in culture, health as well as in things like ports. It is a good partner to have," Greenidge said.
The ministry is also working with the Japan International Cooperation Agency (JICA), which provides technical cooperation.
"JICA of Japan is funding pre-feasibility studies on an oil and gas masterplan, in relation to the development of down-stream activities in Guyana. In that regard, I must mention the MoUs, which are confused in the press with IOUs. But MoUs are tools which can facilitate collaboration, including joint ventures such as [Public-Private Partnerships] for downstream activities, which the industry may find appropriate and feasible and profitable," Greenidge said.
"So, therefore, the Ministry of Foreign Affairs will be looking at the opportunities and avenues offered by existing international and regional agencies… and we are particularly interested in seeing how these entities might help with identifying the pillars that will support such a large and complicated sector," he added.
And with concerns raised over the implications of a possible oil spill and Guyana's preparation for such an incident, Greenidge told the House that while the risk is real, no single developing state has ever been called on to meet the cost of a spill in its entirety. "In fact, states insulate themselves from this risk by the time-worn device of insurance as well as national disaster arrangements. For example, the 1992 International Oil Pollution Compensation Funds and the International Oil Pollution Compensation Supplementary Fund. I want to say that Guyana will be no exception in this regard. The Ministry of Foreign Affairs has already presented to Cabinet recommendations which it has approved regarding the international agreements and conventions to which we need to be signatories in order to benefit from such protection. We have had discussions with the Trinidad and Tobago government with a view to see how we can collaborate also. This is to provide advice as well as explore collaboration in a joint mechanism to this end. We also propose to advise Cabinet to have the relevant agencies, such as [the Maritime Administration Department, Environmental Protection Agency and the Guyana Geology and Mines Commission], possibly… consider requiring tankers operating in Guyana's waters to contribute to funds and have contracts with Guyana's [Civil Defence Commission] and the region's [Caribbean Disaster Emergency Management Agency] and to ensure that disaster arrangements properly carry enough insurance to cover their liability in the unlikely event of a spill in our waters," he further said.
Around the Web