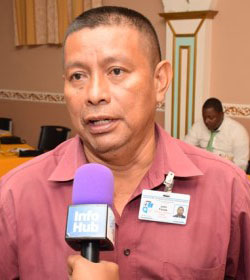 The Maritime Administration Department (MARAD) and boat operators have agreed to implement several measures, including a pre-departure mechanism, to prevent serious accidents from occurring on the water, Director of Maritime Safety John Flores says.
According to Flores, a meeting was convened between MARAD and 23 boat owners after a vessel, Miss Shivita 2, capsized and sank in the Waini River over a week ago.
A probe into the incident found that the vessel was overloaded with groceries and other items.
According to Flores, the operators were engaged in a coastal trade discussion, where they were briefed on safety measures following the recent incident. He said that the administration is hoping to implement several measures which were discussed and agreed upon by both parties.
"We are hoping to implement, firstly, a pre-departure inspection to ensure that the vessel is properly managed, have the appropriate crew, and secondly that the vessel is not overloaded. We have agreed on the immediate implementation of that," Flores said.
When questioned as to whether the administration has the capacity to carry out the pre-departure checks, Flores explained that once notice is given to them, the inspections should not take a lengthy period of time.
"We have marine officers and these inspections are just to make sure that the cargo is properly stored or there isn't an overload. It's more like a cargo and crew inspection and it is not something that would take long to finish," he explained.
Flores also noted that they were able to agree on implementing a system where all crew members on the vessels are certified, after they found limited certification on Miss Shivita 2.
"While it is an immediate implementation, we plan on assisting them in getting their crews certified because MARAD doesn't do the training, our mandate is only to certify," he said.
The operators, along with MARAD officials, also discussed vessel insurance and insurance for their goods. However, Flores noted that the operators related that they are not responsible for their goods, but the shipper is. They were, however, still given a list of marine insurance companies they can utilise for insuring their vessels.
A press release from MARAD had also stated that heightened safety measures have contributed to reduced river accidents. It had explained that the department embarked on several safety initiatives in 2018 to reduce accidents on the waterway, inclusive of training and certification exercises for passenger vessel operators in regions One, Two, Seven and Eight.
Enforcement activities were also held along the riverain areas of the country, through a collaborative effort between MARAD and the Guyana Defence Force Coast Guard.
The operators were also given an opportunity to visit MARAD's Safety Centres located in Bartica, Mabaruma and Charity, to start the process of certification to operate their vessels on the waterways, which has resulted in 65 operators receiving the Harbour and River Competency License.
"As a result of these initiatives, the Department has seen a reduction in river accidents and deaths so far in 2018, when compared to 2017," the statement said, while adding that for this year, from January to October, there were four deaths as compared to nine in 2017 for the same period.
With respect to persons sustaining injuries as a result of river accidents, during the period of January to October, three were recorded as compared to seven for the same period last year.
The total number of accidents for the year stands at five, as compared to the 18 that were recorded in 2017.
"MARAD will be implementing new safety measures in the new year in an effort to minimise accidents occurring on the waterways of Guyana," the statement added.
Around the Web