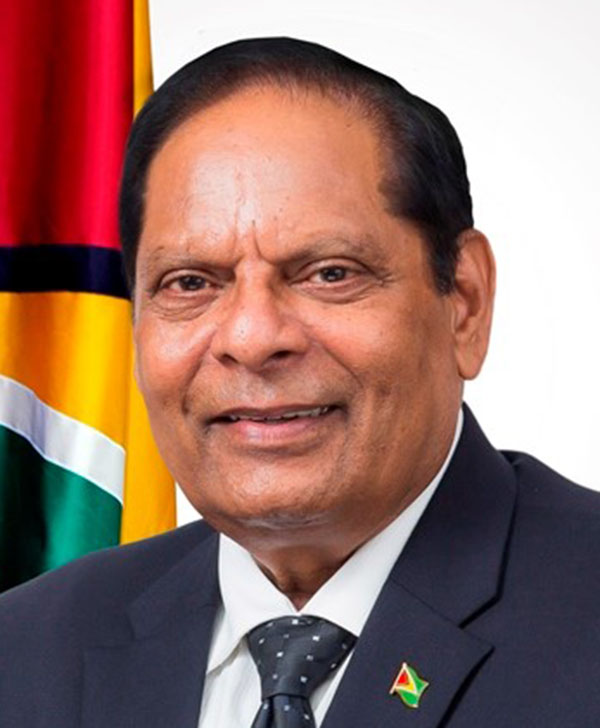 Allocations in the 2019 Budget will ensure pay and continued jobs for all workers inside and outside of government, Prime Minister Moses Nagamootoo says.
"This is, as have been described by some of my colleagues, a peoples' budget. It helps to move Guyana even by a little bit along the road to the good life…and for me, it is a confidence budget, every single dollar from the $300.7 billion budget, that will be spent on building our country, on our people, promoting their welfare, providing security for them, defending all rights and protecting all sovereignty, build among our people, confidence in their government, this APNU+AFC government," the Prime Minister said during his budget presentation on Friday.
"The 2019 budget is the biggest budget ever; 300.7B is a lot of money, it's nuff bread. This $300.7B national purse will ensure that all persons in the public service get an improved salary, the increase is based on a progressive model; those with lower salaries get a bigger increase. These include the vast majority of employees in government ministries, government departments and offices, teachers and doctors and nurses, policemen and soldiers, coast guards and so on," he added.
Turning his attention to claims by the Opposition that there is little to no avenue for job creation, Nagamootoo accused those on the other side of the House of being hypocritical.
 "The Opposition during these debates said that there are no jobs but I heard as I was coming in here, the Honourable Member Anil Nandlall, shouting, screaming how his party, the PPP, is opposed to $16B being set aside to employ public servants, highly educated and specialised persons in the public service and I wonder if those empty green benches that have become so eloquent in their noise could be demanding jobs and, at the same time, oppose allocations to create those jobs," he lamented. The empty green benches was in reference to the empty chairs left after the PPP/C parliamentarians walked out during Nagamootoo's presentation.
"We know that tens of thousands of jobs are secured from the funds in this budget, there is one thing talking about creating jobs, there is another budgetary allocation being set aside to pay those who are in employ in the public service and…in other areas…" he added. 
Elaborating more on the benefits for Guyanese, Nagamootoo said that the budget provides some $3.5B in tax exemptions which would benefit persons with disabilities, remigrants, tourism promoters and drivers under measures set out in the budget.
Further, the budget ensures that programmes in the health, education, housing, water and security sectors are adequately funded, the Prime Minister said. He pointed out that agriculture will get a big boost to not only secure the nation's food security but also the livelihoods of local farmers.
"This budget, like the previous budgets and like all other budgets ought to do, should find ways and means of helping our communities so that they become cleaner, healthier and that they become models of what we can do in Guyana for our people," he said, even as he mentioned the allocations for local democratic councils.
He highlighted too the provisions for the Infor-mation and Communica-tions Technology sector which he said would appeal to young people.
Commenting on the allocations for his Office, the Prime Minister said, "They recognise that the Office of the Prime Minis-ter has a Cinderella budget, we don't ask for a lot of money but we work properly, we work efficiently and we produce results at low cost and so we will continue with the support of this government, $908 million for all public information sector as well as the Office of the Prime Minis-ter, we will continue the revolutionary policy of connecting with indigenous peoples and hinterland communities through television, radio and publications."
"We are hoping in the New Year to have newspapers in Regions 1, 5 and 8 and to have a special edition for Georgetown; we are also sending inserts to newspapers in New York and Toronto to keep our Guyanese in the Diaspora, to keep them updated with developments in their homeland," he added.
Around the Web