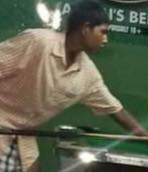 A 15-year-old pedal cyclist died after he was struck down in full view of his sister while his friend is clinging to his life following a hit-and-run accident on Sunday evening along the Annandale Public Road, East Coast Demerara.
Dead is Karamchand Khemraj, called 'Ajay', a horse cart operator of Lot 44 Annandale West, ECD and injured is Reaz Shaw, 16, a trainee mechanic of Lot 35 Annandale West, ECD.
The accident occurred around 18.45hrs Sunday.
The teenagers were both picked up in an unconscious condition and transported to the Georgetown Public Hospital (GPH).
Khemraj succumbed while receiving medical attention around 3am yesterday while Shaw  remained hospitalised in the Intensive Care Unit (ICU) of the GPH up to yesterday afternoon. His condition is said to be critical.
At the time of the accident, Shaw was being towed by Khemraj. They were heading home after visiting a shop in the area.
The Guyana Police Force in a statement yesterday said that they were seeking the assistance of the public in locating the driver who fled the scene and is yet to be apprehended.
Enquiries, the police said, revealed that the teenagers rode out of a northern access road onto the public road when the white Toyota 'Pitbull' minibus which was proceeding east along the northern carriageway of the said road collided with the bicycle.
As a result, both teens fell onto the roadway and sustained head injuries.
The accident was captured on nearby surveillance footage. In the less than one minute video seen by this newspaper, it was noticed that the teens were struck from behind.
Khemraj 's death has left his parents in a state of disbelief since he was the sole bread winner of his home.
When Stabroek News visited his home yesterday, his parents; Jaipaul Khemraj and Lorita Ramroop were weeping uncontrollably.
They explained that less than a year ago, Jaipaul fell ill and lost sight in one of his eyes after which Karamchand left school in order to earn for his family.
"When me sick and deh hospital fah whole three month and suh, ah he (Karamchand) does look after meh. Now who guh look after me?", Jaipaul cried as he recalled how willing and helpful his son was.
Shivanie Ramprashad, Karamchand's sister, who witnessed the accident, related to this newspaper that she was on the bridge of her husband's workplace situated along the public road waiting for him to finish work when the accident occurred.
Greeted
Ramprashad said whilst there she saw Karamchand, who greeted her and continued on his way home. "…..He (Karamchand) tell meh 'goodnight', so me turn and tell me 'goodnight' and after dah he ride and he turn out and the bus was coming and he (the driver) try fah over take one another bus and he lash the bicycle", she said.
Ramprashad said she did not manage to see the minibus properly since her main focus was to get assistance to take her brother to the hospital. "I didn't geh fah see the number and so but I know is a pitbull bus and he (the driver) like he does do grocery, is nah no passenger bus because it nah gah window and so", she recalled.
 "The driver got to get catch and he got to get punish fah wah he do me brother because how long meh live me can never forget wah me see with meh own eye", Ramprashad cried.
Meanwhile, over at Shaw's home, his family were making preparations to visit him at the hospital. His father Yacoob Khan said he was at work when he received a call from his wife who told him Reaz was involved in an accident and had died.
However, he said he later learnt that it was Khemraj who had died.
Message
"Meh wife call meh and tell me that how he (Reaz) dead, dah the message she get that how somebody from the road come and seh he dead", Yacoob said.
As a result, he said he immediately left for the scene. When he arrived, they had already been transported to the hospital. "When he guh town deh now (hospital) me see the bai (Khemraj) deh pun one bed and he (Reaz) deh pun one bed. Dem been ah gee them oxygen", Yacoob said.
"Onto now me son nah even open he eye. He nah talk, he unconscious", he noted.
He said based on what eyewitnesses told him the driver was wrong. "Them (eyewitnesses) seh the driver wrong to the bai them (Reaz and Khemraj) because them stand up deh fah cross and the bus come and lash them. Yuh can see right up ah corner he (the driver) lash them", Yacoob lamented.
He also said that Reaz contributed significantly to their household. "He always working. See when he deh home whole day he ah tek cutlass and he ah chip chip all over the place. Right now he plant a whole set ah cabbage ah backyard", he said.
The Khemraj family which comprises his parents and four siblings, the youngest being four, occupy a small wooden house. The family is now contemplating how they will bury their eldest son since they cannot afford it. As such, they are willing to accept any form of assistance from members of the public. Anyone willing to assist can contact them on telephone numbers 645-5735 or 643-3984.
Just on Saturday evening two Cummings Lodge friends, Rameshwar Singh, 18, and Jason Harris, 20, lost their lives after the motorcycle they were riding crashed into a Jeep at the intersection of the Ogle Access Road and the ECD Highway.
Around the Web