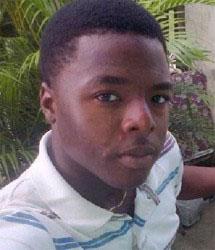 The Ramada Princess Hotel was yesterday ordered to pay $7.5 million in damages to the mother of Shamar Edwards, the 17-year-old who drowned in its pool in 2014.
Justice Sandil Kissoon, who heard the suit filed against the hotel by the young man's mother, handed down the judgment against the hotel after finding that its on-duty life guard who ought to have been at his post was not.
In addition to the sum granted for damages, the hotel was also ordered to pay interest at a rate of 6% per annum from the date the application was filed to yesterday's date when judgment was entered and, thereafter, at a rate of 4% per annum until fully paid.
The court noted that the lifeguard was negligent in the conduct of his duties. After his death, the teen's mother, Marcia Duke, filed an action against the hotel seeking damages for what she said was the death of her son as a result of negligence. 
Dukes was represented by attorney Nigel Hughes.
Edwards, of East Ruimveldt, who was a sixth form student at the St Stanislaus College, was found in an unconscious state in the pool around 6 pm on January 25th, 2014.
He was taken to the East Demerara Regional Hospital at Diamond, where he was pronounced dead on arrival.
Edwards and some of his school friends had gone to the hotel to swim.
Around the Web