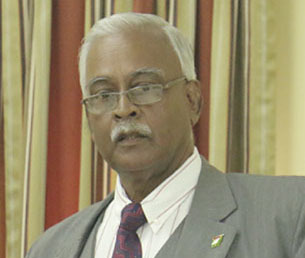 The Office of the Commissioner of Information has been vacant since March of this year, when office holder Charles Ramson Sr was sacked, Prime Minister Moses Nagamootoo told the Committee of Supply yesterday. 
During the consideration of the Office of the Prime Minister's estimated expenditure for 2019, Nagamootoo told the Committee that Ramson was dismissed for rendering his office dysfunctional since he has been unable to submit an account of what he has done.
Despite the termination of his employment, Ramson's salary was paid in full, with the funds allocated in the 2018 budget completed expended.
Opposition Chief Whip Gail Teixeira questioned why someone who was fired in March appears to have been paid for the entire year.
In response, Nagamootoo noted that Ramson, who was hired by way of contract with the Ministry of the Presidency, was fired at a time when he was not in the country and it appears his office was not informed of the termination in a timely manner.
He further indicated that efforts will be made to recoup any overpayments made as well as to fill the post with a person who was both neutral and qualified.
In January 2017, Ramson had filed a lawsuit against the government seeking just over $5.5 million in unpaid gratuity for December 2016 as well as payment for his use and occupation of his own East Street property for the year in light of the government's failure to provide suitable accommodation for his office.
The suit noted that Ramson was appointed by then president Donald Ramotar with effect from July 2nd, 2013 as Commissioner of Information under Section 5 of the Access to Information Act 2011 and he assumed office and remained in office to date.
Under Section 5, the statement of claim explained, he entered into a contract of employment with Ramotar in his capacity as the Commissioner of Information, the terms of which include the payment of gratuity at the end of every six months of employment at the rate of 22½ per cent of his gross salary free of income tax. "Payments were to be made to the Plaintiff [Ramson] out of budgetary allocations to the Office of the President," the statement of claim said.
Around the Web