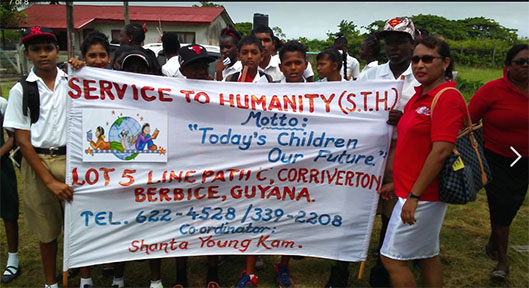 To ensure children of "displaced sugar workers" do not miss school because they have nothing to eat, a group of Berbicians who formed an organisation, Service to Humanity (StH) are continuing to provide them with meals.
The organisation, which is 11-months-old is based in Skeldon, Berbice and has so far provided some 12,000 meals to about 250 students.
Other needy children also benefit from the feeding programme that is conducted about thrice weekly by volunteers.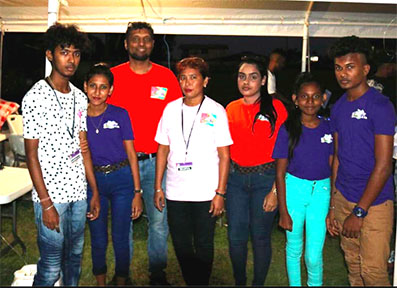 Shanta Youngkam, the founder and coordinator, is grateful to the donors who have supported the initiative. The non-governmental organization recently held a fundraising bar-b-que towards the programme.
The NGO, which goes by the motto; 'Today's Children, Our Future,' has a mission to help underprivileged children in the Upper Corentyne/Crabwood Creek area.
Canadian-based humanitarian, Habeeb Alli was honoured that members of the StH invited him to support their cause.
He has successfully helped to raise awareness and funds for the feeding programme as well as for scholarships for the children.
Alli recently visited the volunteers and students and "was impressed with their level of dedication as well as the support they have received" from some entities, including the American Embassy humanitarian body, Guyana Islamic Trust and an Islamic women's group; (NACOSA).
He said too that, "Canadians have responded kindly during Ramadan and during Qurbani to continue serving these children regardless of race or religion."
The children are very grateful for the help and he said: "It is heartening to receive beautiful cards from kindergarten students as well as from high schoolers saying thank you."
Apart from that, the organization presented a stove to a less fortunate family in Black Bush Polder and also supplied stationery to the schools.
The members recently volunteered at the American Embassy medical outreach at the Skeldon mosque. They also paid a visit to the Sunrise Centre in Essequibo in support of mental health.
The newly formed NGO has also been providing food hampers to the families of the fishermen who were killed during an attack at sea.
According to Alli, the traumatised families have been struggling with young children and without a livelihood.
Around the Web