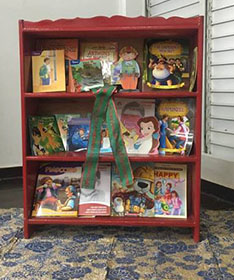 A number of primary school students in Regions Five and Six will now have a place in their schools to read thanks to a drive held by students of the University of Guyana, the Department of Public Information (DPI) said.
The Division of Education and Humanities in collaboration with the University of Guyana Berbice Campus' Library and the Department of Education on Saturday held its second Christmas Cheer and Book Drive drawing which will mean 24 classrooms are to be provided with a complete reading space equipped with fully stocked bookshelves.
DPI said that the project is aimed at enabling primary schools to promote literacy through reading for pleasure and was undertaken by 36 students from the class "Teaching of Language Arts at the Primary Level".
Lecturer and Project Coordinator, Pamela Rose, explained that the course is to help teachers not only to understand the language arts needs of their students but to also design strategies to meet those needs.
"Classroom teaching in this course emphasizes the transformational model of learning and the contextual view of learning where students' learning is made more meaningful and relevant when linked with real-life activities and real-life needs. This project undertaken by the EEN 4102 class has the potential to support national efforts to improve literacy in primary schools through collaborative partnership activities conducted in four phases", she said, according to DPI.
Around the Web