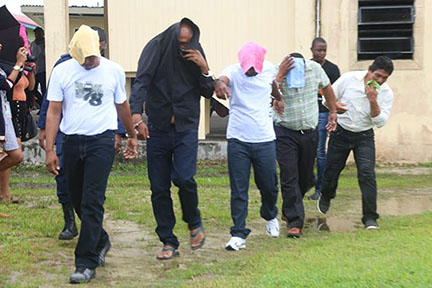 The prosecution yesterday closed its case against the five men accused of trafficking over 100 pounds of cocaine and cannabis at Parika, East Bank Essequibo earlier this year.
 Khemraj Lall, 39; Marlon Lawrence, 36; Rajendra Persaud, 47; Cleve Thornhill, and Doodnauth Chattergoon, 36, are charged with trafficking 13.8 kilogrammes (equivalent to 30 pounds) of cocaine  and 35 kilogrammes (77 pounds) of cannabis on June 6, at Parika.
After calling the final witness yesterday, Konyo Sandiford, prosecutor for the Customs Anti-Narcotic Unit (CANU), closed her case. As a result, defence attorneys were given up to December 21 to lay over written submissions to the court, while the prosecution was given up to December 28 to respond to the submissions.
Meanwhile, Magis-trate Rochelle Liverpool disclosed that she will deliver her ruling on whether a prima facie case against the five men has been established, on January 10, 2019.
During the trial, the court had heard that Lall, Lawrence, and Persaud had been intercepted with two 15-gallon bottles, with parcels containing cocaine and cannabis allegedly concealed inside. Thornhill and Chattergoon are alleged to have assisted in the delivery of the drugs.  CANU had said it received information regarding a shipment of drugs arriving at Parika from Charity via a speedboat. As a result, officers proceeded to the West Bank of Demerara, where they received additional information about vehicles bearing licence plates PSS 8019 and PVV 7934.
It was further explained that vehicle PSS 8019 was intercepted along the Parika Public Road with Lawrence and Persaud. A search of the vehicle revealed two blue 15-gallon bottles with the bottoms of each cut. They were engineered in such a way that they were secured with wire and covered with brown paste. A further examination of the bottles revealed several packages containing leaves, seeds and stems, suspected to be cannabis, and parcels containing a powdery whitish substance, suspected to be cocaine. The discovery was said to have resulted in the interception of the other vehicle.
Around the Web