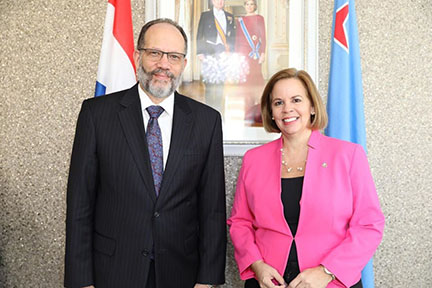 CARICOM Secretary-General Irwin LaRocque met on Wednesday with Prime Minister of Aruba, Evelyn Wever-Croes, to discuss Associate membership for the Dutch territory in the Caribbean Community (CARICOM).
According to a CARICOM press release, the Secretary-General was accompanied at his meeting with the Aruban Prime Minister by Assistant Secretary-General for Foreign and Community relations Colin Granderson, General Counsel Dr Corlita Babb-Schaefer, and Adviser Neville Bissember.  The Prime Minister was also joined by Director of the Department of Foreign Affairs, Edwin Abath.  CARICOM Heads of Government earlier this year mandated the Secretary-General to begin the process of negotiations with the Dutch Territories in order to better determine their expectations of Associate Membership, and what benefits the relationship could yield for the Community, the release added.
The press release also disclosed that the Heads have also agreed to continue to examine the issue of an Enlargement Policy for CARICOM which currently has fifteen full members and five associate members.
The Secretary-General also paid a courtesy call on Aruba's Governor, Juan Alfonso Boekhoudt and is scheduled to visit Curacao and St. Maarten this week.
Around the Web