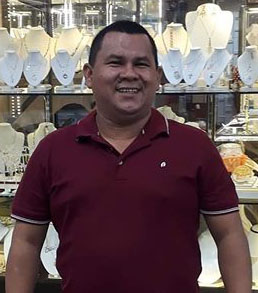 Days after being hospitalised following an accident along the Herstelling Public Road, on the East Bank of Demerara, Police Sergeant 16542 Joseph Elton Ambrose has succumbed to his injuries.
The Guyana Police Force (GPF) confirmed his death yesterday morning.
GPF spokesman Jairam Ramlakhan, in a statement, said that Ambrose succumbed at the Georgetown Public Hospital Corporation (GPHC) at approximately 1 am yesterday.
Following the accident on Sunday night, Ambrose was admitted to the Intensive Care Unit of the GPHC. Just before midnight on Sunday, Ambrose, 42, was driving a car, PMM 9099, north along the western carriageway of the Herstelling Public Road, allegedly at a fast rate, when he lost control of the vehicle and crashed into the rear of motor lorry GLL 5592.
Ambrose was taken out of the wrecked car and rushed to the Diamond Hospital, from where he was transferred to the GPHC.
Ambrose, who is a father of two, was on his way home at Herstelling at the time of the accident.
The police force yesterday said that Ambrose was on 500 days accumulated vacation leave, which commenced on April 9th.
He had joined the GPF on January 11th, 1995.
"The Guyana Police Force mourns the death of Sergeant 16542 Joseph Elton Ambrose and extends condolences to the family, relatives and friends," the statement added.
Around the Web