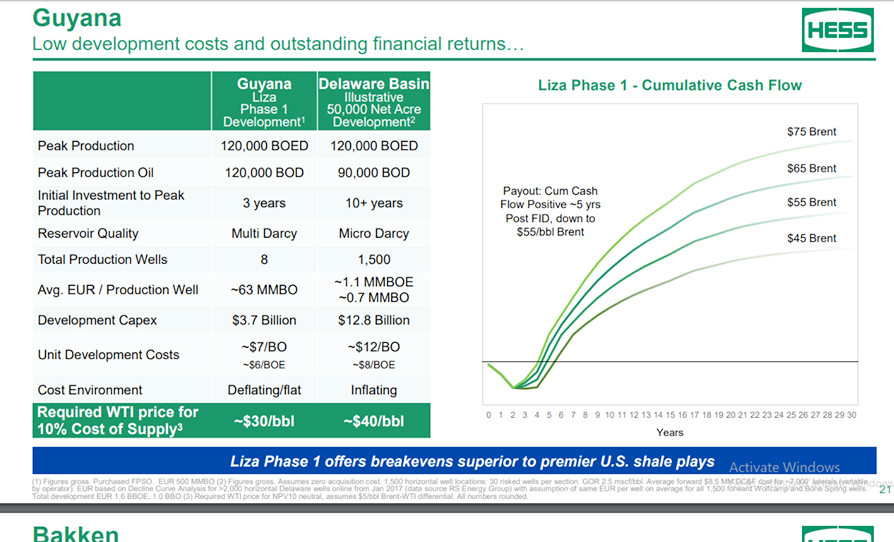 On the heels of its partner Hess boasting of its Guyana's offshore operations being pivotal to its projected financial gains, oil major ExxonMobil has lauded this year's five discoveries and echoed similar sentiments even as it believes that more gains will be made in 2019.
In a 'Year in Review' ad in the newspapers yesterday, ExxonMobil recapped its 2018 operations here saying that not only has it "been an exciting year; a lot has happened" but that "there's still so much more to come."
Hess officials have said that operations at the Payara prospect in the Stabroek Block are expected to be sanctioned along with the Liza Phase 2 operations in 2019. The Payara operation, according to Hess, could see this country pumping some 500,000 barrels of oil by 2023.
ExxonMobil said that Guyanese would benefit tangibly from its operations here even as the company gave a synopsis of its local content policy over the year and highlighted local recruitment and training for posts such as a local Public and Government Affairs Advisor, Drilling Engineering Facilities coordinators and supply chain associates among others.
"ExxonMobil Guyana reinforced its commitment to local workforce advancements in Guyana, growing its staff to 65 employees with more than 50% being Guyanese by the third quarter of 2018. ExxonMobil Guyana conducted recruitment and in many cases began development of personnel in the following roles: Drilling Engineering Facilities Coordinator and Public and Government Affairs Advisor to name a few. ExxonMobil Guyana began the process to hire the first group of operations and maintenance technician trainees. Once hired, the trainees will be sent to Canada to complete skills training. This training program will be 17 months in duration. Upon completion, the technicians will return to Guyana and be assigned to the FPSO Unit," the review said.
"ExxonMobil in partnership with the Centre for Local Business Development (CLBD) successfully hosted the Liza Phase 1 Supplier Development Forum in December for Guyanese companies to have face to face meetings with ExxonMobil and its prime contractors. In addition to the forum, the Centre's other activities included ongoing business courses, outreach to the regions, technical institutes and centers and continued mentorship of companies in ISO 9001 compliance through its partner Food Safety Management," it added.
The CLBD's supplier registration portal currently hosts over 2000 companies and efforts are underway to develop an application to access the portal from a smartphone.
ExxonMobil did not detail operations for 2019 but stated that its Noble Tom Madden vessel, which arrived in October and drilled the recent Pluma discovery, will continue drilling next year.
Reflecting on 2018, ExxonMobil said that with five additional finds, it has increased the estimated recoverable resources offshore Guyana to more than five billion oil equivalent barrels. "This reinforces potential for at least five floating storage, production and offloading vessels producing more than 750,000 barrels of oil per day by 2025," according to the review.
Receptacles
"The Liza Destiny FPSO completed its second dry dock with major work including the integration of rise receptacles and completion of hull blast and paint activities. Piping installation continued on the main deck, tanks, accommodation and engine room," it added.
In a separate video posted to their Facebook page, ExxonMobil pointed out that they "are going to have seven wells ready for startup. Start is still 2020 and everything is ready for that. Earlier (production) possible, but for sure early 2020," Operations Manager Dough McGhee said.
"We announced our tenth discovery, started drilling Liza Phase 1 Development wells, added a third drillship, and updated the Stabroek Block resource estimates and much more. We have a busy year ahead with installation of subsea equipment for the Liza Phase 1 project and the arrival of the FPSO. We look forward to continuing to partnering with Guyana next year…," Senior Director, Public and Government Affairs, Deedra Moe added.
And in the area of Corporate Social Responsibility, the company said that some $470 million in corporate social responsibility grants were given out this year but of that amount, the lion's share of $400M went to Conservational Inter-national.  The remainder was split where $5M was given to the Region 1 village of Waramuri for a youth and community empowerment project, $12M for the empowerment of at-risk youths through the Sustained Youth Development and Research Inc's programme, and $11M to the Volunteer Youth Corps.
Exxon said that it also sponsored a number of sporting events which totaled $55M.
"In 2018, we worked to establish meaningful relationships that benefitted communities and the company for the long-term. Our focus areas included: Educa-tion, Youth, Women and Community Empowerment and Environmental sustainability," the company said.
Exxon's 2018 success in the Stabroek Block has also been shared by executives of Hess who trumpeted the developments in Guyana as they told analysts that the company is "blessed" to have investments in an area where there has been 10 discoveries in three years, and where there is "multibillion potential remaining" with "some of the best carbonates in the world."
The company's executives compared works in Guyana to that of other operations in the Deepwater Gulf of Mexico and the western Texas's Permian Basin, saying that operations here find exceptional reservoir quality with low development costs and works out to drilling and time costs cut in half.
"Because of this exceptional well quality, it only takes you eight producers to hold and maintain that 120,000 per day (production), whereas in the Delaware, you need over 1,500 wells to get to that same level….each well in Guyana will produce about 63 million barrels each, so they are really big wells versus one million each in the Permian. I'm not going to argue that the Permian is not a good investment, but Guyana offers lower costs," one executive said.
A study conducted by Calgary-based RS Energy Group, analysing the top 50 offshore developments and shale, stated that Guyana's Liza has the lowest breakeven cost. This was referred to by Hess as it boasted of its Guyana operations.  "RS Energy recently ranked the 50 top offshore developments and play and… ranked the Liza development as the lowest breakeven lowest of global offshore developments …keep in mind what Exxon said—this is come of the best carbonate they have seen," he added.
On December 12, a Hess investor forum heard that the development cost for ExxonMobil's offshore Liza Phase-1 project has been significantly revised from the projected US$4.4 billion to US$3.7 billion.
"The original Exxon estimate for Phase 1 was US$4.4 billion; it is now US$ 3.7 billion. Exxon is doing a terrific job, the drilling campaign is going well, we will keep learning as we progress…and that includes the acquisition of the ship," Senior Vice President and Chief Financial Officer at Hess, John Rielly, told the forum in Houston Texas.
The disclosure of the lower cost will raise eyebrows here as Guyana had not queried the original figure and had appeared to accept it. Former presidential advisor on oil and gas, Dr Jan Mangal had said that the original Liza-1 figure could have been negotiated downwards. The lower cost means that there would be more oil for profit share between Guyana and ExxonMobil.
Around the Web