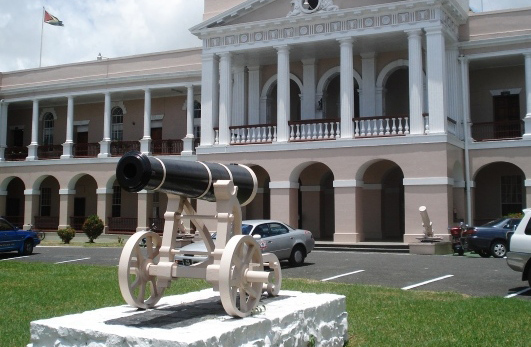 In advance of Friday's PPP/C no-confidence motion, the APNU+AFC government yesterday underlined its achievements since 2015 and called on "all patriotic Guyanese and their organizations to let their voices be heard: "'No' to the motion! 'Yes' to confidence!"
The government statement came a day after Opposition Leader Bharrat Jagdeo urged APNI+AFC MPs to vote their conscience on the motion. The government controls 33 seats in parliament while the PPP/C has 32. For the motion to succeed, the PPP/C would need a majority and both sides are expected to crack the whip to ensure that their MPs turn up in full force and adhere to their positions. Were the motion to succeed, new general elections would have to be called.
Following its Cabinet meeting yesterday, the government issued a statement on its record since 2015 and acknowledged that there had been missteps.
"Though not without challenges and a few mis-steps, the successes of this Coalition Government are numerous and impressive after over three years in office.
"The Coalition Government has restored Guyana's credibility in the world, protected our national sovereignty and territorial integrity, ensured that there is an independent judiciary, an autonomous Parliament and other constitutional agencies such as GECOM which are all guaranteed full financial independence. Parliament is a vibrant and functioning participatory forum that meets regularly (110 sittings of the National Assembly to date compared with 105, 62 and 88 for the 6th, 7th and 10th Parliaments)", the government statement declared.
It pointed out that two Local Government Elections have been held in 3 years as compared to none having been held for over two decades during the former PPP/C administration.
It said that the country today enjoys a plural, free media with full protection for journalists.
Cabinet, it added,  has met 219 times since May 2015 (43 months) while, by comparison the PPP/C Cabinet met 212 from January 2011 to May 2015 (53 months).
"The Coalition Government has ensured that national defence and security take high priority, resulting in a marked reduction in serious crimes and the halting of piracy, which was rampant and had reached epidemic proportions on the high seas.
"Our Coalition has promoted social security and lifted the image of our indigenous peoples as Guyanese citizens, enjoying equal rights and opportunities. Our Government has upheld multi-cultural cooperation and facilitated social cohesion.
"There have been, during the three and a half years of the Coalition Government, the disappearance and complete suppression of acts of torture, extra-judicial killings, summary executions, and the existence, with impunity, of death squads and drug gangs which had stalked the land under the PPP administration", the government declared.
It also contended that the government has restored confidence in, and integrity to, public life.
"We combatted rampant, pervasive corruption among persons holding public office, reconstituted the Integrity Commission and appointed a Public Procurement Commission to handle state procurement", the government declared.
It cited educational gains and added that it had provided free access to reliable public healthcare and provided safe, potable water even to hinterland communities.
"Our Coalition undertook the completion of West Coast Demerara, East Bank Demerara and East Coast Demerara highways and delivered five pedestrian overpasses and a major roundabout.
"We have delivered a newly expanded international airport and better hinterland aerodromes and airstrips. Confidence in the airline industry has been restored with major airlines coming to Guyana and serving as host of a global airline conference", the government proclaimed.
"We have delivered 132 ICT Hubs and six, world class Regional Radio Stations in Mabaruma, Bartica, Mahdia, Orealla, Lethem and Aishalton. Guyana can now boast of having a truly national public information network, that links the Coastland and the hinterland. Our people all across Guyana have free access to the internet and are connected and communicating with persons all over the world", it added.
The statement asserted that Georgetown is being restored as a capital, garden city. It is cleaner and more beautiful, and not cluttered with garbage and no longer prone to chronic, pervasive flooding.
VAT, it said,  has been lowered, public servants salaries increased by 63%, the tax threshold raised to $780,000 annually while personal income tax has been reduced.
"Working people who still carry the burden of past neglect and starvation wages are better off under this Coalition Government and have every reason to be hopeful that their lot would further improve in the near future.
"Teachers, nurses, doctors, soldiers, policemen and women, pensioners, young people, single parents, everyone in public service deserve to enjoy the good life. Guyana is today in a transformation mode", the government argued.
Noting the closure of some estates, and the "right-sizing" of GuySuCo, the government said that the jobs of 10,000 sugar workers have been protected and production at only three estates has netted, so far, 105,000 tonnes of sugar for 2018. Around 7,000 sugar workers have been laid off since the government took office.
"Our Government has rescued and saved the sugar industry from collapse. Many sugar workers were rehired and all were paid severance with interest.
"Guyanese have every reason to feel and believe that their country finally is in clean and safe hands and the Coalition Government urges all, both here and in the Diaspora, to rally around their government.
"We also urge all patriotic Guyanese and their organizations to let their voices be heard: `'No' to the motion! 'Yes' to confidence!', the statement declared.
For its part, the opposition PPP/C yesterday said that it was fine-tuning how many people would speak on the no-confidence on Friday.
"We are deciding how many speakers we will have. We are in discussions with the government's Chief Whip and how many speakers the government will have. We have an idea of how many speakers we will want to have but I can't tell you that right now," PPP/C Chief Whip Gail Teixeira said.
She told Stabroek News that as far as she was aware, not all the MPs will be contributing to the debate on the no-confidence motion. 
As of yesterday, she said, what was most important was not how many speakers from both sides of the House will speak but safety and other issues that the Leader of the Opposition Jagdeo raised at a press conference on Monday.
Jagdeo filed the no confidence motion in the Parliament and had called for it to be debated before the reading and debate on the budget which began on November 26 and ended last Friday. 
"We will be taking up those issues formally with the Speaker and the Commissioner of Police and will bring them to the attention of the diplomatic community," Teixeira said.
The party has intelligence, she said, of attempts to thwart the no-confidence motion using thugs.
At his press conference on Monday, Jagdeo told reporters that based on information reaching the party, attempts will be made to interfere in the process and he fears for his MPs.
He said he does not know if the motion will succeed or not but all it needs is one person on the governing side to vote in favour of the motion or at least two Government MPs abstaining.    
Around the Web